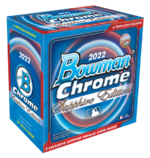 If you like Bowman Chrome, then you will really like this! Collect all the top stars, rookies and prospects in the Topps exclusive Sapphire Parallels!
2022 Bowman Chrome Sapphire Baseball 2 Box Lot
Configuration: 8 packs per box, 4 cards per pack.

Checklist can be found
HERE!
2 Guaranteed Serials per box, with possible variations of top young prospects and rookies!

Price Breakdown
Random Teams. 30 Spots, $20 a spot shipped. If you buy 4+ spots, each spot is $17 shipped.
Prices are Paypal F&F.
G&S please note there is a 4.9% surcharge. Canadian Buyers, please note there is a $15 surcharge for shipping, no matter the spots you buy.

This is also a No Skunk Break. What is a "No Skunk Break"? If you do not get at least one card (since the base are considered parallels/inserts) you will not go home empty handed! If you get the dreaded team that has ZERO cards, you will get a $10 credit toward an upcoming break of your choice! I'm not a fan of seeing people walk away empty handed, so it's a little something back to say, "Hey It's happened to me, let's try to make it right!". And if happens multiple times, then you will get x number of $10 credits.

30 Randoms. This will be done once all 30 teams are selected and are paid for. It will be done via random.org dice roll to determine the number of random for all 30 teams, and then 'randoming' them that x amount of times! Makes sense? Let's go!

1) David K.
2) David K.
3) mcgwirenut
4) Molitor04x
5) LarryG
6) Butch's Buddy
7) mcgwirenut
8) RBurke02
9)
10) mcgwirenut
11)
12) mcgwirenut
13) Bdink25
14) mcgwirenut
15) Steelers8873
16)
17)
18) Rburke02
19) Molitor04x
20) Bdink25
21) mcgwirenut
22) LarryG
23) Steelers8873
24) LarryG
25) mcgwirenut
26) Butch's Buddy
27) LarryG
28) molitor04x
29) mcgwirenut
30) molitor04x

Any questions? Please message me or comment below! Thanks again!
Last edited: