Hi all. I am developing a masters thread with all I have for sale. I will be updating this list from time to time and most of the cards will be in lot form due to shipping prices. I prefer to sell the cards in a lot. For a list of cards I am selling individually please check out my ebay page, seller ID is loudmouthbuyer. If interest in a lot please let me know and I will send you a picture of the cards. Sadly my scanner is still not working.
If you have any questions please feel free to pm me:
$325 lot:
2003 Donruss studio Tom Seaver Autograph 1/5
2004 Signings of the times Nolan Ryan autograph/gu jersey 15/99
2005 Donruss classics Tom Seaver autograph 20/25
2005 Reflections Robin Yount auto/patch 01/50
2010 Panini Century Collection Paul Molitor autograph/patch 04/10
$200 lot:
2007 Sweet spot Lou Gehrig GU Jersey (if interest check out my ebay page or I can email you a picture.
2009 Triple Threads Tom Seaver Autograph 3/9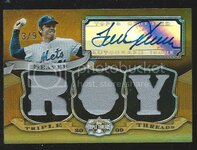 2008 Topps Triple Threads Steve Carlton Autograph 7/9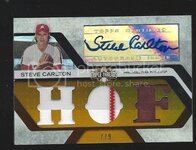 Yankee lot $50:
1999 SI GOTG Sparky Lyle autograph
2004 Upper deck Legends Phil Niekro autograph
2011 Prime Cuts Wade Boggs autograph/ bat piece 20/25
2014 Panini Goose Gossage autograph
$90 Greats and hall of fame autograph lot:
2000 GOTG Preacher Roe autograph
2000 GOTG Dick Groat autograph
2001 GOTG Jim Rice autograph
2001 team topps legends bob felle
2004 Donruss classics Jim Bunning autograph 21/25
$40 lot:
2006 Just Minors Evan Longoria Auto
2003 Flair great Billy Martin gu jersey
20014 bowman chrome kelly dugan auto
2014 bowman chrome auto jose ramirez auto 418/500
2004 bowman chrome bryvic valera auto 366/500
$40 lot:
2015 bowman chrome Bryce Brentz autograph 61/99 green refractor
2005 bowman chrome Wilkerman Garcia autograph
$15 lot:
2002 SP Legendary cus *** wee reese gu jersey
2005 SP LEgendary Cuts Don sutto gu jersey
2002 ovation swatches ellis burks gu jersey
2005 donruss classics jack wilson autograph
1999 SP Top Prospects Nick Johnson autograph
$12 lot:
2003 pride of new york steve balboni autograph
2002 topps pristine ben sheets auto
2008 upper deck mike pelfrey gu jersey piece
Last edited: