$10.00 Delivered Paypal F&F or Hidden Cash/Money Order only.
I will continue to add cards to this post periodically (hourly/daily) until someone purchases the lot.
I will only update THIS post with cards. So when one lot sells, I will recycle this post with new cards for the next lot.
If you want to purchase the current lot, please simply write "SOLD Lot #(whatever)"

Lot #2 (More cards added in Post #5)
Ran out of space to attach pictures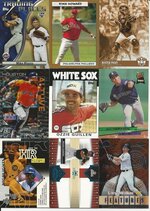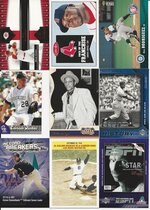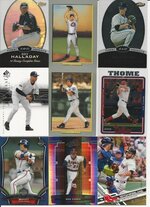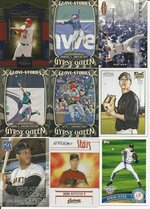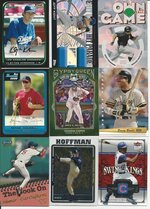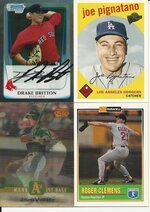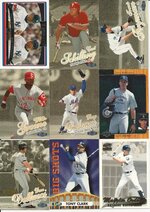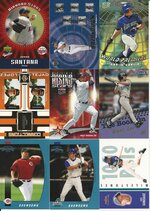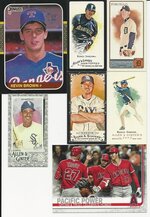 1987 Donruss 627 Kevin Brown RC $1.50
1993 Duracell Power Players I #1 Roger Clemens $0.50
1993 Ultra #620 Mike Hampton $0.30
1993 Upper Deck Home Run Heroes #HR6 Barry Bonds $4.00
1996 SP #171 Alex Rodriguez $2.00 (minor imprint on the back)
1996 Sportflix #16 Mark McGwire $2.00
1997 Collector's Choice Teams #SM6 Alex Rodriguez $4.00
1998 Metal Universe #205 Roger Clemens HG $0.75
1998 Ultra Gold Medallion #82 Curt Schilling $1.00
1998 Ultra Gold Medallion #173 Travis Fryman $1.00
1998 Ultra Gold Medallion #27 Willie Greene $1.00
1998 Ultra Gold Medallion #84 Rey Ordonez $1.00
1998 Ultra Gold Medallion #223 Dave Dellucci PROS $2.00
1998 Ultra Big Shots #15 Tony Clark $0.40
1999 Paramount Gold #59 Magglio Ordonez $0.50
1999 Ultra The Book On #17 Nomar Garciaparra $3.00
1999 Ultra The Book On #12 Travis Lee $0.75
1999 Ultra World Premiere #9 Karim Garcia $2.00
1999 Upper Deck #255 Sammy Sosa SH CL $0.50
2000 Finest #134 L.Walker/T.Helton $1.50
2001 Bowman Gold #156 Mitch Jones EX-MT $1.00
2002 Upper Deck Ballpark Idols Playmakers #P14 Nomar Garciaparra $3.00
2003 Fleer Tradition Milestones #20 Luis Gonzalez $1.00
2003 Topps Record Breakers #RJ1 Randy Johnson 1 $2.50
2003 Upper Deck Big League Breakdowns #BL9 Shawn Green $1.00
2004 Ultra Gold Medallion #217 Jeremy Guthrie $2.50
2005 Absolute Memorabilia #181 Rod Carew $1.00
2005 Bazooka Gold Chunks #180 Ryan Howard PROS $2.00
2005 Donruss Champions Impressions Red #16 Sean Casey Reds (EX Condition) $0.50
numbered to 250
2005 Donruss Champions Impressions Blue #416 Roger Cedeno Astros (EX Condition) $0.50
numbered to 100
2005 Donruss Team Heroes Showdown Blue #167 Shawn Green $1.50
2005 Donruss Team Heroes Showdown Blue #416 Eric Milton $1.50
2005 Playoff Prestige Connections #15 M.Tejada/J.Lopez $1.50
2005 Studio Stars #18 Andy Pettitte $1.50
2005 Sweet Spot #13 Chipper Jones $1.25
2005 Timeless Treasures #16 Garret Anderson $1.50
numbered to 799
2005 Topps All-Time Fan Favorites #68 Joe Pignatano $0.60
2005 Topps Chrome #25 Jim Thome $1.50
2005 Topps Chrome #203 Trevor Hoffman $1.50
2005 Topps Heritage Flashbacks #AK Al Kaline $2.50
2005 Topps Rookie Cup Reprints #56 Ozzie Guillen 86 $2.00
2005 Topps Turkey Red #16B M.Piazza Pinstripe $1.00
2005 Topps Turkey Red #38 Greg Maddux $1.25
2005 Upper Deck ESPN Magazine Covers #MC10 Randy Johnson $2.50
2005 Upper Deck ESPN This Day in Baseball History #BH7 Ernie Banks $2.50
2008 Bowman Draft #BDP26 Clayton Kershaw RC $15.00 (top edge chipping)
2006 Bowman Prospects #B14 Mark Trumbo $1.00
2006 Topps #326 D.Jeter/A.Rodriguez TS $1.25
2006 Topps Hit Parade #RBI8 Jeff Kent RBI $1.50
2006 Topps Own the Game #OG24 Scott Podsednik $1.00
2006 Topps Trading Places #MJP Mike Piazza $4.00
2006 Ultra Rising Stars #URS9 Willy Taveras $1.00
2006 Upper Deck First Pitch Diamond Stars #DS19 Johan Santana $1.50
2007 Bowman Heritage #202 Tim Lincecum RC $2.50
2007 Fleer Mini Die Cuts #231 Aaron Cook $1.00
2007 Topps Allen and Ginter Dick Perez #16 Prince Fielder $0.75
2007 Topps Allen and Ginter Mini #286 Khalil Greene $0.75
2007 Ultra Swing Kings #AS Alfonso Soriano $2.00
2007 Upper Deck First Edition Pennant Chasers #MR Manny Ramirez $1.00
2008 Americana II #185 Willie Mays $2.50
2008 Finest Finest Moments #TG Tom Glavine $1.50
2008 Finest Finest Moments Refractors #ROH Roy Halladay $2.50
2008 SP Authentic #2 Derek Jeter $2.50
2008 Topps Allen and Ginter Mini Black #17 Kenji Johjima $1.50
2008 Upper Deck Yankee Stadium Legacy Collection #3890 Sparky Lyle$1.25
2009 O-***-Chee Face of the Franchise #FF23 David Ortiz $2.50
2009 Topps Allen and Ginter Mini Black #203 Scott Kazmir $2.00
2011 Bowman Chrome Prospects Refractors #BCP94 Drake Britton $3.00
numbered to 799 (In Person Autograph)
2011 Topps Allen and Ginter Mini A and G Back #194 Rick Porcello $1.50
2011 Topps Opening Day #140 Derek Jeter $2.00
2011 Topps Gypsy Queen Home Run Heroes #HH10 David Ortiz $2.50
2016 Topps Gypsy Queen Glove Stories #GS10 Joey Votto $1.25
2016 Topps Gypsy Queen Glove Stories #GS6 Billy Burns $0.75
2016 Topps Gypsy Queen Glove Stories #GS3 Kevin Kiermaier $1.00
2017 Topps Update Gold #US274 Mitch Moreland $2.00
2018 Diamond Kings Sepia Variations #79 Buster Posey $2.00
2019 Topps Update #US189 Mike Trout/Shohei Ohtani $3.00
2019 Topps Update 150 Years of Baseball #15085 Orlando Cepeda $0.75
2020 Bowman Platinum Ice #46 Jose Altuve $1.25
2020 Topps Allen and Ginter Mini Black Border #348 Luis Aparicio SP $3.00 (imprint on back)
Total BV $143.30
Last edited: