Joined

Dec 26, 2006
Messages

7,982
Reaction score

315
Points

83
Location
The Hits:
Live link to the group box break:
This product is scheduled to release this week so I wanted to see if anybody would be interested in trying a
TEAM AUCTION STYLE
group break for
ONE HOBBY BOX of 2022 PANINI SCORE FOOTBALL.


Box Configuration:
- 10 packs per box
- 40 cards per pack
- 4 Autographs
- 90 Rookies
- 10 Parallels
- 36 Inserts
- 1 Lenticular Insert Per Case
- 2 Base/Rookie Die-Cuts Per Case
PRODUCT HIGHLIGHTS
- The first officially licensed NFL product of 2022, Score is loaded with new rookies, inserts, parallels and autographs!
- Chase some of the first rookie cards from the 2022 NFL Draft including Kenny Pickett, Matt Corral, Aidan Hutchinson and many more!
- Hunt for the following inserts that are only found in the Hobby & H2 Sku's, Breakthrough, Toe the Line, Hot Rookies, NFL Draft, Fantasy Stars and Squad.
- Look for short printed Lenticular inserts with intergalatic and Base Dynamics!
Product Info: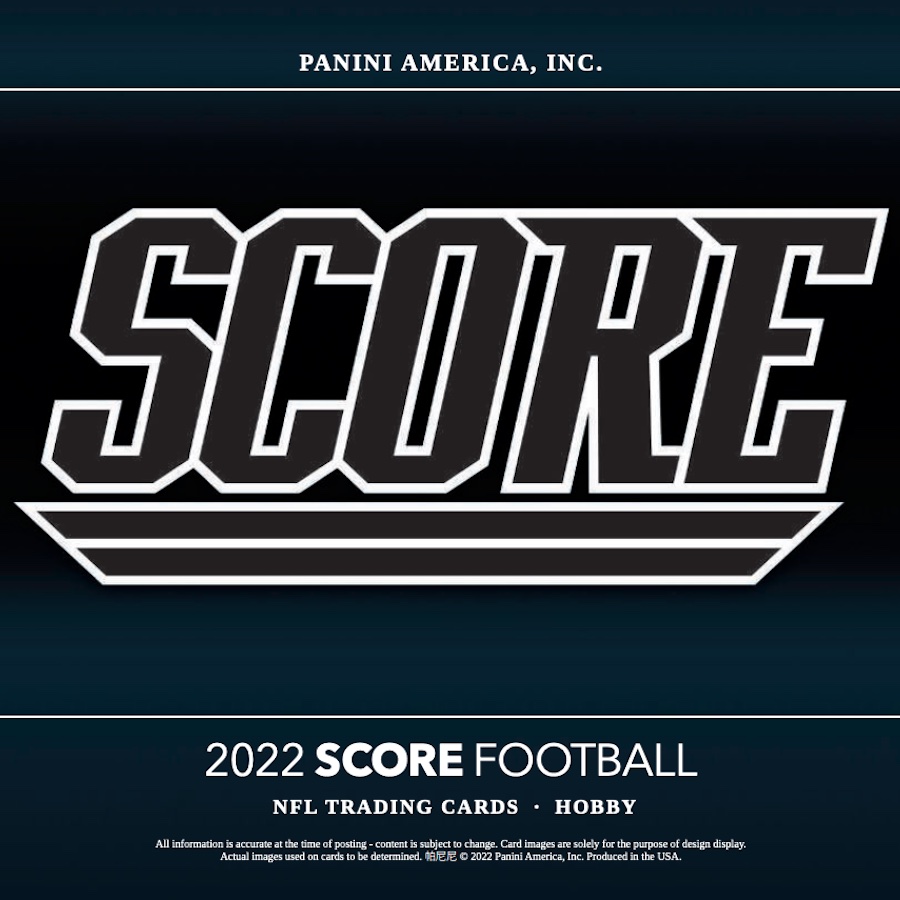 2022 Score Football checklist, set info, buy boxes, reviews, release date, box breakdown. Panini Jumbo Hobby box has 4 autographs.
www.cardboardconnection.com
Here is how this break will work. There are
32 teams
and the auction price will start at $5 for each team.
Members will have a chance to bid on their teams and the highest bidder will get that team and all cards from that team from the break.
MINIMUM BID INCREASE IS $1. BIDDING ENDS AND TEAMS ARE SET IF/WHEN WE REACH THE BOX BREAK PRICE OF $200.


This product is scheduled to release on September 30th and I can preorder it if it looks like there is interest in doing this break.
After you sign up I will add this to the Trade Manager along with my PayPal address.
Please let me know if anybody has any questions.
Teams/Bids:
Arizona Cardinals $5 OldNewRips PAID
Atlanta Falcons $8 dragonslayer913
Baltimore Ravens $5 PAVI39
Buffalo Bills $5 gestes72 PAID
Carolina Panthers $7 K.C._Royals! PAID
Chicago Bears $7 DaSoxFan PAID
Cincinnati Bengals $5 PAVI39
Cleveland Browns $7 dad3309@ PAID
Dallas Cowboys $5 northicehero99 PAID
Denver Broncos $5 PAVI39
Detroit Lions $6 kpit1978
Green Bay Packers $8 kpit1978
Houston Texans $6 dragonslayer913
Indianapolis Colts $5 PAVI39
Jacksonville Jaguars $5 OldNewRips PAID
Kansas City Chiefs $10 bdink25 PAID
Las Vegas Raiders $5 OldNewRips PAID
Los Angeles Chargers $5 OldNewRips PAID
Los Angeles Rams $7 OldNewRips PAID
Miami Dolphins $5 northicehero99 PAID
Minnesota Vikings $5 bfd13 PAID
New England Patriots $6 kpit1978
New Orleans Saints $7 dad3309@ PAID
New York Giants $7 OldNewRips PAID
New York Jets $7 dad3309@ PAID
Philadelphia Eagles $5 PAVI39
Pittsburgh Steelers $14 bdink25 PAID
San Francisco 49ers $5 PAVI39
Seattle Seahawks $6 dragonslayer913
Tampa Bay Buccaneers $5 OldNewRips PAID
Tennessee Titans $7 dad3309@ PAID
Washington Commanders $5 PAVI39
Red Font = Recent Bid

Total Needed to Reach Box Break Price: $0
1/1 Bounty:
$20
Low Serial Number Bounty:
$5
Last edited: