Hi Guys
Well...as far as I can tell...only 2 people watch the break live. We got screwed on the Mega box, as some thief had broken into the box, took out the auto and inserts and then resealed it. Will be talking to Target tomorrow and see what they say.
We had four hits.
Thomas Szapucki signature Mets.
Austin Riley Retro Materials
Casey Mize Retro Materials
and the best hit for crazderik was the Jake Meyers Signature Astros.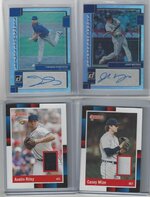 Got my two boxes of 2022 Diamond Kings and will list that this weekend.
All of you who were in the Prizm Draft break, will be mailing those together.
Thanks for your support!
Bob
2022 Donruss Baseball treats collectors to a new season of MLBPA cards.
Becoming a staple of the brand, The Famous San Diego Chicken and Domingo Ayala are back for another year.
The Hobby breakdown exactly matches the 2021 edition, including two autographs and one relic per box to go with 29 parallels
Checklist is at
https://www.cardboardconnection.com/2022-donruss-baseball-cards
2022 Donruss Baseball Hobby Box Break Average​
2 Autographs
1 Memorabilia Card
24 Holo Blue Parallels
4 Independence Day Parallels
1 Liberty Parallel
Mega box break average 114 Cards

1 Autograph

12 Holo Pink

12 Pink Fireworks

Look for Mega Box Exclusive 1988 signatures

Blaster box break average 90 cards

Blaster exclusive 12 Holo Purple

6 Rapture Parallels

2022 Donruss Break of 1 Hobby Box $125 with tax and shipping , 1 Mega Box $45 & 1 Blaster $ 25.00 + tax at Target $5= $190.00 Target

Shipping for the first team is $4, but free for all additional spots.

BIDDING ENDS AND TEAMS ARE SET WHEN WE REACH THE BOX BREAK PRICE OF Total

$190 Bids so far $190 to go $0!



Break will be on YouTube, when all spots are filled and paid for.
Any Questions, Please ask.
Thanks Bob
| | | |
| --- | --- | --- |
| Teams and Prices: | | |
| Arizona Diamondbacks | bdink25 | $13.00​ |
| Colorado Rockies | Crazyderik | $4.00​ |
| Los Angeles Dodgers | Sasquach | $5.00​ |
| San Diego Padres | gwynn_fan | $5.00​ |
| San Francisco Giants | Crazyderik | $3.00​ |
| | | |
| Chicago Cubs | LarryG | $4.00​ |
| Cincinnati Reds | Crazyderik | $3.00​ |
| Milwaukee Brewers | Crazyderik | $3.00​ |
| Pittsburgh Pirates | bdink25/Buddy | $16.00​ |
| St. Louis Cardinals | OldNewRips | $6.00​ |
| | | |
| Atlanta Braves | Crazyderik | $4.00​ |
| Miami Marlins | Crazyderik | $3.00​ |
| New York Mets | OldNewRips | $5.00​ |
| Philadelphia Phillies | dcb11 | $7.00​ |
| Washington Nationals | Crazyderik | $3.00​ |
| | | |
| Houston Astros | Crazyderik | $3.00​ |
| Los Angeles Angels | Steelers8873 | $15.00​ |
| Oakland Athletics | LarryG | $4.00​ |
| Seattle Mariners | Crazyderik | $4.00​ |
| Texas Rangers | Crazyderik | $3.00​ |
| | | |
| Chicago White Sox | bdink25/Buddy | $17.00​ |
| Cleveland Guardians | [email protected] | $6.00​ |
| Detroit Tigers | Mechjo | $5.00​ |
| Kansas City Royals | Dcb11 | $7.00​ |
| Minnesota Twins | Crazyderik | $3.00​ |
| | | |
| Baltimore Orioles | Crazyderik | $4.00​ |
| Boston Red Sox | LarryG | $6.00​ |
| New York Yankees | OldNewRips | $5.00​ |
| Tampa Bay Rays | Steeler8873 | $10.00​ |
| Toronto Blue Jays | bdink25 | $14.00​ |
| | | $190.00​ |
| To Go | | $0.00​ |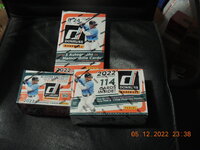 Last edited: