Got a nice suggestion to try this one so I wanted to see if anybody would be interested in trying a
TEAM AUCTION STYLE GROUP CASE BREAK
for a
20
BLASTER
BOX CASE of 2019 PANINI DIAMOND KING BASEBALL.


Case Configuration:
-20 Blaster boxes per case
Box Configuration:
-7 packs per box
-5 cards per pack
-4 Purple and 4 Rapture parallel cards per box
Each Box Contains One BLASTER EXCLUSIVE Bonus Pack Featuring Blue Frame, Holo Gold & Artist Proof Blue Parallels!
A true hobby staple, 2019 Diamond Kings returns with a brand new list of players, but the same classic look that collectors covet.
Find autographs from the top 2019 Rookies in DK Material Signatures.
Look for 4 Purple and 4 Rapture parallels in every blaster!
Find short-printed Holo Gold insert parallels that are exclusive to the Blaster
20 Boxes Per Case | 7 Packs Per Box | 5 Cards Per Pack
Product Highlights​
Find autographs from the top 2019 Rookies!
BLASTER EXCLUSIVE:
Blue Frame/Holo Gold/Artist Proof Blue Parallels!
Product Info: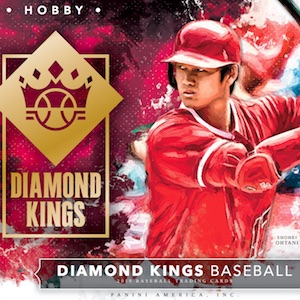 2019 Panini Diamond Kings Baseball checklist, DK set info, variations, buy boxes, release date, reviews. MLBPA set has 2 autographs or relics per hobby box.
www.cardboardconnection.com
Here is how this break will work. There are
30 teams
and the auction price will start at $5 for each team and spot.
Members will have a chance to bid on their teams and the highest bidder will get that team and all cards from that team from the break.
MINIMUM BID INCREASE IS $1. BIDDING ENDS AND TEAMS ARE SET IF/WHEN WE REACH THE 20 BLASTER BOX CASE BREAK PRICE OF $380.
After teams are set I will add this to the Trade Manager along with my PayPal address.
This product is available and this case can be ordered if/when it looks like we have interest to do this 20 blaster box case break.
Please let me know if anybody has any questions.
Teams and Prices:
Arizona Diamondbacks $5 grapler135s
Colorado Rockies $5 LarryG
Los Angeles Dodgers $15 grapler135s
San Diego Padres $10 AndyDrummond
San Francisco Giants $5 grapler135s
Chicago Cubs $8 r5-grnd-pndr
Cincinnati Reds $5 grapler135s
Milwaukee Brewers $6 PAVI39
Pittsburgh Pirates $10 Criollos
St. Louis Cardinals $10 jerryjtj
Atlanta Braves $11 PAVI39
Miami Marlins $5 grapler135s
New York Mets $10 AndyDrummond
Philadelphia Phillies $7 dragonslayer913
Washington Nationals $8 LarryG
Houston Astros $13 Therion
Los Angeles Angels $30 Steelers8873
Oakland Athletics $5 grapler135s
Seattle Mariners $7 dragonslayer913
Texas Rangers $5 grapler135s
Chicago White Sox $5 grapler135s
Cleveland Guardians $10 [email protected]
Detroit Tigers $5 Mechjo16
Kansas City Royals $5 [email protected]
Minnesota Twins $10 bfd13
Baltimore Orioles $5 grapler135s
Boston Red Sox $10 LarryG
New York Yankees $15 Criollos
Tampa Bay Rays $7 grapler135s
Toronto Blue Jays $12 LarryG



Total Needed to Reach Case Break Price: $116
Last edited: