Joined

Oct 8, 2007
Messages

5,411
Reaction score

142
Points

63
Location
Breaking one hobby box of 2021 Prizm Draft Baseball 5 Autographs 40 cards.
2021 Panini Prizm Draft Picks Baseball features top MLB prospects while utilizing a collegiate theme.
Within each Hobby box should be five autographs, five Silver Prizms and five inserts.
2021 Panini Prizm Draft Picks Baseball checklist, set info, date, parallels, buy boxes, review. Collegiate Hobby box has 5 autographs.

www.cardboardconnection.com
Random break by last digit of card number. i.e. If you are spot 5, you'll receive every card that ends in 5...25 65, etc. And, all alphabet letters ending in e, o and y. And, so on. Once the list is filled and paid, I will set up a YouTube break time, at which point I will draw a card from my deck randomize the names that number of times (Ace one time to King 13 times.)
Price per spot is only $9 including shipping.
Any Questions, please ask.
Thanks Bob
1 LarryG
2 North ice hero9
3 Molitor04
4 Barjack34
5 Nateisme123
6 Franklinguy52
7 Franklinguy52
8
9
10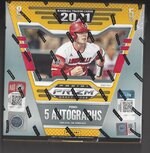 1/1 Bounty to first to pull one...
2022 USA Baseball Stars and Stripes Jumbo Materials #60 Druw Jones 17/50
Prizes for additional 1/1s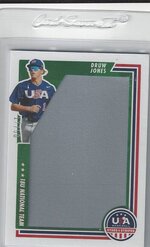 Lowest Serial Number card = $5 in a future break.
Last edited: