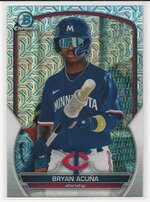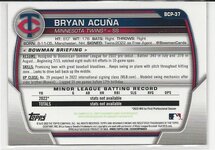 Hit of the break!
Live link to the break!

Cards are in hand!
Topps presents the 2023 MLB Bowman Mega Box. Look for 4 2023 Bowman Base packs and 2 exclusive Mega Chrome packs per Mega Box! Each pack contains 5 cards.
Details, Checklist and More (Found Here!)
Cards per pack: Base Packs 10 (2 pros/2 chrome/6 base), Mega Box – 5
Packs per box: Bowman – 4, Mega Box – 2
Boxes in this Group Break - 3
Set size: 100 cards
(Which means not every prospect from the base chrome set will be in this set) Veterans/RCs included
This is an auction style team break.
Shipping is included in your bid. Paypal F&F is preferred, but Paypal G&S is available for an additional 4.9%.
Baltimore $22 mcgwirenut
Toronto $3 mcgwirenut
New York (AL) $17 mcgwirenut
Boston $16 larryg
Tampa $6 molitor04x
Detroit $5 mcgwirenut
Minnesota $4 mcgwirenut
Chicago (AL) $4 mcgwirenut
Kansas City $5 smithbrian524
Cleveland $4 zlw1
Seattle $8 gestes72
Texas $6 larryg
Houston $5 Therion
Oakland $4 mcgwirenut
Los Angeles (AL) $5 smithbrian524
Philadelphia $5 klut18
Washington $4 larryg
Atlanta $10 mcgwirenut
Miami $6 mcgwirenut
New York (NL) $10 gestes72
Milwaukee $7 larryg
Chicago (NL) $6 zlw1
Pittsburgh $5 mcgwirenut
Cincinnati $7 Molitor04x
St Louis $8 larryg
Colorado $6 larryg
Arizona $30 mcgwirenut
San Francisco $4 mcgwirenut
Los Angeles (NL) $6 molitor04x
San Diego $4 mcgwirenut
FULL
Last edited: