Hi
To avoid a conflict with grapplers' Stadium Club Break, moved up to 1330!
Six boxes of 2021 Bowman Mega, 300 cards total, 50 cards per box.
2021 Bowman Mega Box Chrome Baseball Box Break​
2 Exclusive Mega Box Chrome Packs (5 cards per pack)
4 Packs of 2021 Bowman Baseball (10 cards per pack)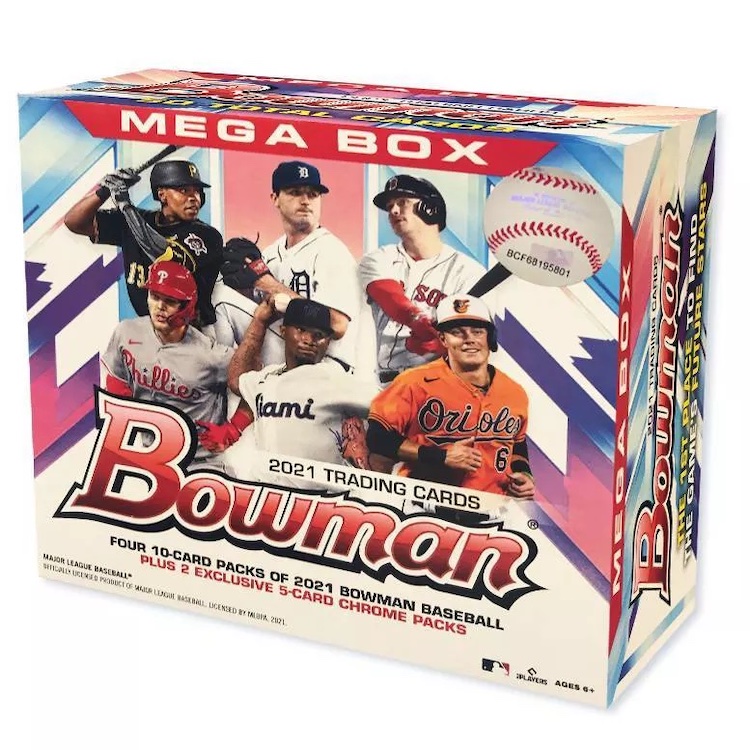 2021 Bowman Mega Box Chrome Baseball checklist, MLB Mojo set info, buy boxes, autographs, variations, pack odds for Retail-exclusive set.

www.cardboardconnection.com
Also in the break:
FOUR 4
2021 Donruss Diamond Kings Retail Hanger Box 20 Cards Inserts Walmart
80 cards: 3SPs, 2 Inserts & 1 Red Frame Parallel per box.
https://www.cardboardconnection.com/2021-panini-diamond-kings-baseball-cards
TWO 2
2021 TOPPS Series 2 BASEBALL Hanger Box 67 Cards Factory Sealed 2 Walmart Exclusive Royal Blue Per Box 134 cards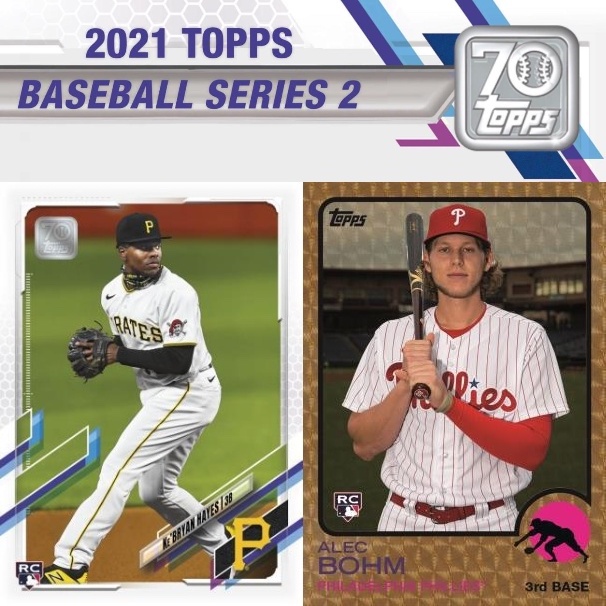 2021 Topps Series 2 Baseball checklist, reviews, details, buy boxes, variations, release date. Series 2 MLB set adds more flagship cards.

www.cardboardconnection.com
ONE
2021 Topps Heritage Blaster
8 packs of 9 cards 72 cards. Pulled a Ferguson Jenkins Real Auto in the last break!
One
2021 Topps Heritage Hanger
35 cards
AND
One
2021 Topps Series 1 sealed Cody Bellinger tin
with 75 with an exclusive Chrome 70 Years Topps insert, 5 1952 Redux cards and 1 chrome 1952 redux card.
That's 696 cards to start!
If you've been in my breaks before, you know I also like to open packs that have been in the garage for years. Last time it was 2 1987 Topps wrap packs. I may have more of those, and other years of Topps, Donruss, Fleer and Score. The quicker this breaks fills, the more items to be added.
Also, I am always trimming my herd and adding cards from the overflowing boxes in the garage, so no one will be shut out.
Not enough?
There will again be a pick the MLB winners contest, from a date to be selected, and the winner gets all their cards shipped in the Bellinger tin!
So, how many would be Interested at 15 spots for two teams for $40 a spot and $35 additional spots?
When you sign up, you'll pick a team from those available. After all 15 picks, of the first round, is complete; I will list the transaction and my paypal address. Then
LarryG,
who all ready started things off, will start the second round of picks.
The break will most likely take place on July 1, after I get back from two weeks in New England. It will take place live on YouTube and the link will be posted at the top of this frame. For the best experience, you can click on the view on YouTube button and be able to chat with me.
Any questions? Don't be afraid to ask.
I hope everyone will tune in and have a fun time!
Thanks
LMK Bob
Round 1 Round 2 Paid Tin Pick
1 LarryG Red Sox Phillies X X
2. pinetarboys. Padres Braves
3. pinetarboys. Yankees White Sox
4. Molitor04x. Blue Jays Cubs
5. Molitor04x. Angels Brewers
6. roger16. Cardinals Giants X
7. mechjo16. Tigers Mets X X
8. jordanrulz. Pirates Athletics X
9. mcgwirenut. Marlins Reds
10. LarryG Twins Rockies
11. Gwynn_fan. Dodgers. Indians
12. Mcgwirenut Rays. Mariners. ........x
13. dragonfire613. Nationals Diamondbacks x
14. dragonfire613. Rangers Astros x
15. Mcgwirenut. Orioles Royals
Last edited: