Click on watch on YouTube to Chat
have to go grab a wrap pack and then will fire it up
Bob
Hi
1 2021 Topps Gypsy Queen Hobby Box deliver two autographs and one Chrome box topper pack. Plus short prints, variations, plus more! 24 PACKS/8 Cards= 192 cards

2 2021Gypsy Queen Blaster 7 packs of 7 cards 49 cards with a Green parallel per pack

3 One Pre 1994 wrap pack from the garage.

4 Bonus cards of the teams you pick.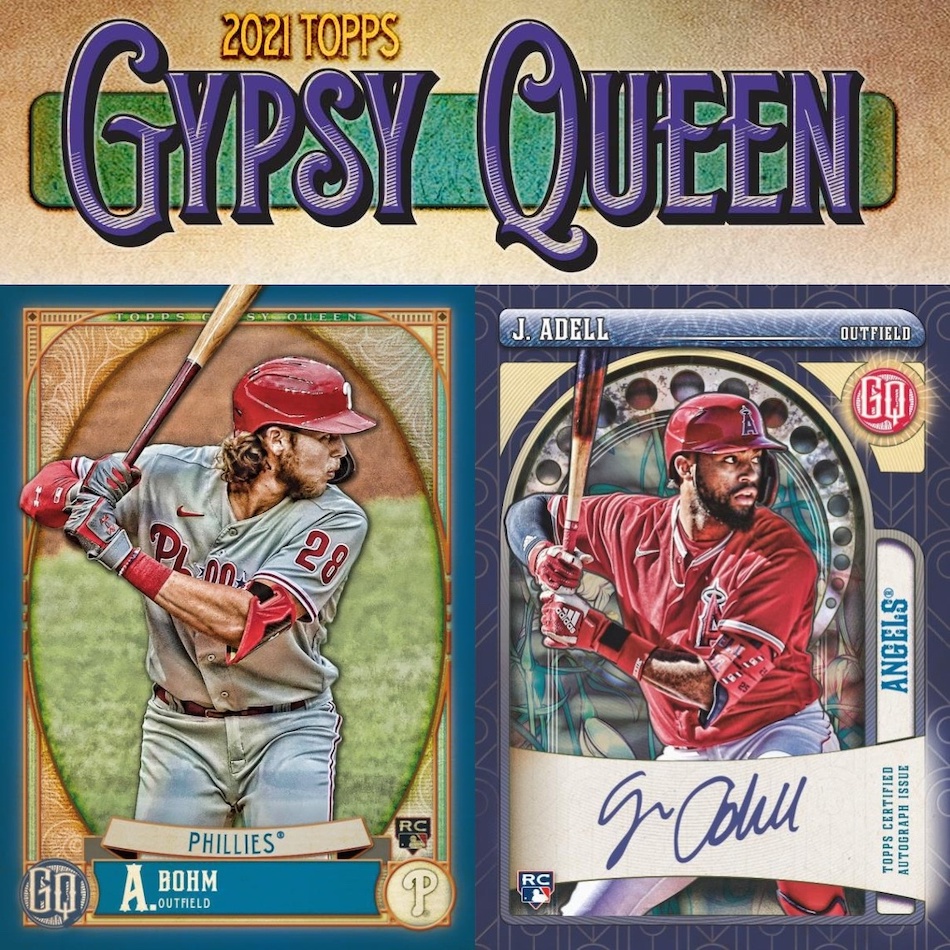 2021 Topps Gypsy Queen Baseball checklist, variations info, MLB details, boxes for sale, release date. Each GQ Hobby box has 2 autographs.

www.cardboardconnection.com
Here is how this break will work. There are
15 spots
and the price is
$15 per spot
.
Each spot gets you TWO teams!
When you sign up for the break you tell me what your first team pick is (from unpicked remaining teams). $12 additional teams!
When all 15 spots fill, I will start a transaction with my PayPal address and players will begin picking our 2nd teams in the
REVERSE ORDER
in which you signed up. So spot 15 will pick their 2nd team first, then spot 14, and so on all the way back to spot 1. You will get all of the cards of the all players from your 2 teams in this break.
Any non-baseball cards will be disperse in the order that the spots have been filled. I.E. First non-baseball card to spot 1, second to 2, etc.

The break will most likely take place, after all spots are filled. It will take place live on YouTube and the link will be posted at the top of this frame and the time. For the best experience, you can click on the view on YouTube button and be able to chat with m
e.
Any questions? Don't be afraid to ask.
I hope everyone will tune in and have a fun time!
Thanks
LMK Bob
EVERYONE HAS PAID! THANKS bOB
1 Roger16 Cardinals giants Rays
2. smalltime35.

PAID

Angels Dodgers Nationals
3 Tom N White Sox Rangers Indians
4 mechjo16

PAID

Tigers. Twins Mariners
5. Tom N. Reds Astros Athlectics
6. Gwynn_fan.

PAID

Padres

Blue Jays Mets


7. bdink

PAID

Braves Orioles. Royals
8. dubby25

PAID

Red Sox. Marlins Dbacks
9 cornwellfamily. Yankees. Cubs
10. bdink

PAID

Pirates. Phillies
Not Picked
Brewers D' Backs Rockies

Last edited: