Hi
.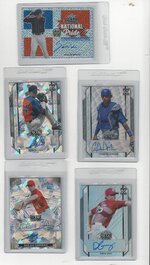 Breaking after Topps Debut. Tonight!
Thought we got some big hits of lots of First Round draft picks. I picked up one more box of 2021 Leaf Metal Draft Jumbos.
2021 Leaf Metal Draft Baseball turns the chromium spotlight on top MLB prospects.
Jumbo boxes offer 10 signed cards, including nine autographs and a one-of-one slabbed proof autograph.
Featuring a variety of talent, 2021 Leaf Metal Draft Baseball is an all-autograph release. The base Metal Autograph line highlights key names with XRC designations and showcases several parallel tiers.
Very simple break. There are 10 autos, therefore ten spots at
$19.50 a spot
, including shipping in a PWE, but mailed inside the post office. The Slab card will be mailed in a padded envelope.
I will let this run until March 1 or until all the spots are filled.
Thanks Bob
1
2
3
4
5
6
7
8
9
10
Last edited: