So, I was checking out baseball card videos to see where the hobby is and what caught my attention was recognizing the image of a player on a box.
The box was a Topps 2015 Allen & Ginter 10th anniversary edition. Looks like this.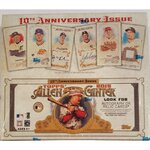 So the player on the 4th card looked very familiar like someone I knew and here his name is shown as "ADREU". I was interested so I did several searches and this card isnt actually in the set. Also, this player doesnt seem to be recorded as ever playing for both the Majors or the Minors. So, who knows about this player? Now I am fascinated. Topps certainly didnt make a player up on the box display to screw with their customers or did they?