Hello all, over the years I've accumulated some basketball cards but I don't collect basketball. I bought a 2-week Beckett subscription so I could price them out. The lot is worth $96 BV. As you can see there is a Celtics rookie relic and a Jordan, and some Shaq as well. Also a Kidd rookie and some other good ones. Magic vintage card etc.
I would like to trade the ENTIRE lot. I'd like to trade UP for a baseball card or a few that i need. Ideally I'd like to do this $96 basketball lot for a baseball card with a BV of $60-$80. My needs are in my sig. Thanks for looking!
PS I just found more which I don't have time to photograph which I'll include for free. They are all lower-value cards but there is another Shaq, Grant Hill, Magic, Pippen, etc. 35+ additional cards. I'd guess these lower end are about $20 BV total which pushes the total package over $115 BV but like I said I'd trade up for about $60-$80 BV baseball card I need. Thanks!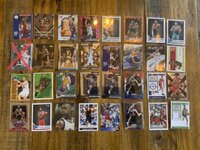 Please note the X-ed out Kyrie relic in the picture is not included in the lot. Thanks!
Last edited: