More cards added 9/25/15
Just thought that I would scan some random cards and offer them for trade. I have many more cards like these available. I have a lot of prospect and rookie cards from 2004-2015 as well as star cards/inserts.
Please let me know what you're interested in. I am primarily a rookie card collector of HOF, current stars, young stars, and top prospects.
Thanks.
1. Bryce Harper 2015 Topps Chrome Sepia Refractor
2. Paul Konerko 2015 Topps Chrome Green Refractor #/99
Traded
3. Albert Pujols 2014 Topps Chrome Purple Refractor
4. Zack Greinke 2006 Bowman White #/120
5. Buster Posey 2013 Topps Chrome Update Gold Refractor #/250
6. Joey Gallo 2015 Bowman All-Star Futures Jersey #14/25
7. Roenis Elias 2014 Topps Update Photo Variation
8. Nolan Arenado 2014 Topps Allen & Ginter SP 314
9. Anthony Rizzo 2015 Topps Heritage Chrome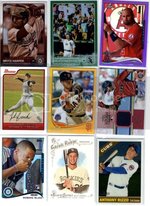 10. Andrew Heaney 2014 Topps Chrome Update RC Gold Refractor #/250
11. Max Scherzer (w/Miguel Cabrera) 2013 Topps Update Photo Variation
12. Gregory Polanco 2014 Topps Update RC Photo Variation
13. Manny Machado 2014 Topps Chrome Orange Refractor
14. Mickey Mantle 2007 Topps Chrome Mickey Mantle Story Blue Refractor #001/100
15. Mike Wright 2011 Bowman Chrome Draft Blue Refractor #163/199
Traded
16. Miguel Cabrera 2014 Topps Chrome Gold Refractor #44/50
Traded
17. Hanley Ramirez 2007 Allen & Ginter NNO Mini
18. Felix Hernandez 2015 Topps Chrome Prism Refractor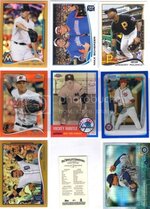 19. Shin-Soo Choo 2014 Topps Chrome Update Gold Refractor #/250
20. Pedro Alvarez 2014 Topps Chrome Sepia Refractor #58/75
21. Matthew Bowman 2014 Bowman Chrome Prospects Gold Refractor #33/50
22. Daniel Webb 2014 Topps Chrome Update RC Gold Refractor #143/250
23. Clayton Kershaw 2015 Topps Chrome Sepia Refractor
24. Billy Butler 2013 Bowman Chrome Orange Refractor #08/25
25. Josh Beckett 2015 A&G 10th Anniversary Framed Buyback Mini (2013)
26. Corey Kluber 2013 Topps Update Camo #49/99
Traded
27. Mickey Mantle 2010 Topps Chrome Orange Refractor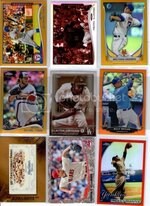 28. David Price 2014 Topps Chrome Black Refractor #072/100
29. Yoenis Cespedes 2013 Topps Update SP Variation US7
30. Zack Greinke 2015 Bowman Blue #108/150
31. Yasiel Puig 2015 Bowman Purple #155/250
32. Stephen Piscotty 2015 Bowman Chrome Farm's Finest Green Refractor #13/99
33. Kole Calhoun 2015 Bowman Silver Ice
34. Travis d'Arnaud 2015 Bowman Blue #097/150
35. Jason Kipnis 2015 Bowman Silver #/499
36. Zack Greinke 2015 Bowman Silver Ice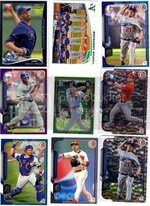 37. Greg Maddux 2001 Donruss 2000 Retro Diamond Kings #/2500
38. Chipper Jones 2012 Bowman Chrome Xfractor
39. Alex Rodriguez 2004 Flair Collection Row 1 #061/100
40. Paul Konerko 2005 Skybox Gold #031/150
41. Jorge Posada 2006 Bowman Chrome Xfractor #138.250
42. Andy Pettitte 2009 Topps Chrome Blue Refractor #058/199
43. George Brett 2005 Diamond Kings HOF Heroes Green Framed #04/50
44. David Ortiz 2015 Donruss Stat Line #092/400
45. Melvin Mora 2010 Topps Photo Variation w/Adam Jones on Back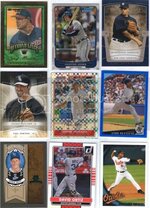 Last edited: