Had some choice seats for tonight's debacle in Arlington. The Ranger bats were as silent as the crowd at times. But we still had a blast as my 11 yr old nephew got to "steal" third base before the top of the 7th inning. He had 35 seconds to run from left field wall, grab third and run back. And he is slower than Xmas but managed to make it. They gave him the 3rd base from last night's game(the one Lee pitched lights out and Nelson Cruz bombed in the 10th to win) so hopefully some day, we can get Nellie to sign and date it...
Anyway, it was autograph Wednesday where they have 4 lines in various parts of the park. My nephews were so unimpressed with the selection(Teagarden,Hawkins,Treanor,Chris Davis) we instead watched A's BP.
Got 2 baseballs during BP...
The haul was small but not bad, plus that third base is pretty cool!!
Gio Gonzalez SS OMLB
Dallas Braden SP OMLB
Cliff Pennington 1 card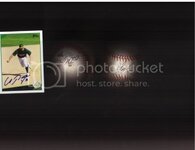 thanks for reading!!
Chris