I thought my 08 UD Masterpieces Stroke of Genius auto set was complete.....then I came across this on Sportsbuy.com and bought it immediately. In 2 years, I've never seen this card on any site until last week.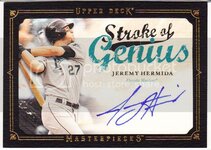 UD has done a TERRIBLE job of listing the cards that are in the set, and Beckett still doesn't have a few listed. I'm glad I found it and can add it to my set, but I hope there aren't others out there that I don't know about.
They never ended up getting the Griffey or Victor Martinez redemptions completed, so I know those 2 aren't in the set.
If you want to see the set, here's the link.
http://s192.photobucket.com/albums/...DONT ASK/08 Masterpieces Autos NOT FOR TRADE/
Thanks!
John
Last edited: