Just back from a month in Ft. Myers, FL (Mrs Runner recently retired; we'd planned this long ago, and decided we could isolate there as well as we could at home), so I'm looking forward to checking out 2021 cards and getting back into the swing of things on The Bench.
I wanted to report that I was able to snag tickets to a Spring Training game on March 4 -- Rays vs. Twins. The weather was beautiful, and the precautions that the ballpark took in no way made us feel overly uncomfortable being around other fans.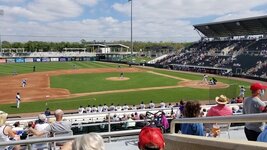 Hopefully the major league parks learn from the Spring Training experience and also do a safe job of partially opening up to fans in the park. In the meantime...get your vaccine shots!