Joined

Aug 8, 2004
Messages

5,991
Location
Please allow me to vent for a minute.
I bought a 1984 Topps Traded Ron Darling graded PSA10 on Ebay this week for $13.25/dlvd. I got it as an inside joke gag gift for a buddy of mine who I used to run tables with at shows back in the mid-eighties.
Since I don't go to shows nowadays, I've never actually in person seen a card that's been graded 10 from any authenticator. The best I have in my collection is a 2006 Bowman Chrome Yovani Gallardo Orange Refractor #'d/25 graded BGS 9.5, which really looks flawless. I also have a bunch of mid-eighties rookie cards graded SGC 96 (1987 Donruss Maddux, 1986 Topps Traded Bonds, etc.).
I was really looking forward to seeing what a true PSA 10 looked like.
Then I received this: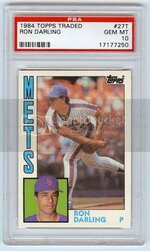 I'm not sure what you can see in the scan, but with the card in hand and with the naked eye, it's pretty easy to see the fraying on the top and side of the card. Here's a better example with closer scans: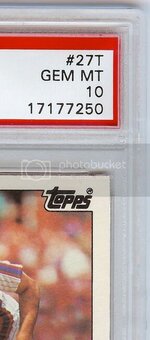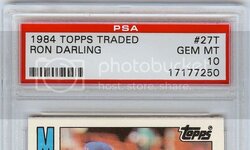 The blue border on the back of the card also has some minor chipping, which I didn't scan.
Is it normal for these grading companies to be that far off in their assessments? If I can see the imperfections with the naked eye, shouldn't these guys with the proper lighting and the 10x loops be able to pick them out too?
I know that this is nothing new in the hobby, and it's probably a story that's been told a million times over already, but it's my first experience with bad grading.
I doubt I'll be giving this to my friend. It's just too embarrassing. I'm not returning it to the seller either, as he did nothing wrong. I guess I'll just eat the $13.25 and never buy a graded card again unless I see it for myself.
I just wanted to share my disappointment and see if anyone else had any similar experiences.
Thanks.
Aaron