Hi Everyone -
The Spring Cleaning Continues!
I have a lot of 1614 Football Base Cards from various brands from 2000 to 2015. Stars included too - the only ones I've taken out was Manning, Brady, and Favre - anyone else, if I had 'em, was fair game for this lot. This would make a great lot for set collectors or TTM/IP autographers.
I am looking for $38.00 for this lot. That comes to 2.3 cents each delivered in a Medium Flat Rate Priority Mail box. (Or 1.5 cents each plus shipping depending on how you want to look at it).
I'm hoping to move this lot outta here!
LMK. Thanks!
Scobes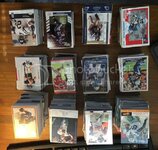 Last edited: