Joined

Oct 8, 2002
Messages

7,851
Location
09 Topps Tribute Baseball​
6 packs per box - 5 cards per pack
'One Relic or Autographed relic Card #ed to 99 or Less in Every Pack!'
I received the following:
18 base cards

This ultra premium issue has a mirror finish on the front (shows finger prints very easily.) The cards are very thick and have no 'bend' to them at all - and will easily rip the spokes right out of your bike!! Tribute features both players from the past as well as current players - such as Ty Cobb, McCovey, Mantle, Yaz, Snider, Zimmer, Gibson, to name a few. The reverse has the player's career stats along with a synopsis of his career.
Inserts
Blue / Black Parallels
Blue #ed to 219 // Black #ed to 99

Blue
Ray Knight
Lance Berkman
Duke Snider
Black
Chase Utley
Randy Johnson
Gold
#ed to 25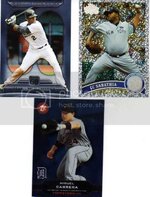 Willie McCovey
Game Used and Autos
Game Used

Berkman Jsy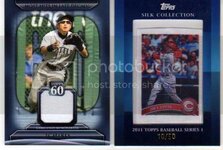 Jackson bat #ed to 75 - Blue
Ichiro jsy #ed to 50 - Black

Gary Carter auto and jsy #ed to 50 - Black

Duke Snider auto and bat #ed to 25 - Gold
Daryl Strawberry auto and dual bat #ed to 25 - Gold
************************
This ultra premium issue should be great for the player collector. One has several parallels to chase of each card - black, blue, gold, plus relic cards. The boxes are relatively expensive (in Orlando $240 per box - $40 per pack!!) and one receives only 6 packs in the box. This will make the set builder need at least 6 boxes for the opportunity to receive the base set of 100 - not for the faint of heart.
The auto cards look great and are designed for the sticker autos. They are done very, very well.
Overall grade
A+
slightly expensive - maybe more packs per box??
Go break the piggy bank and buy several boxes and send the Longoria and Hamilton cards to me!!
Duane