Dick LeBeau - c/o Steelers
6 days, 2/2 on 72 Sunoco and custom card.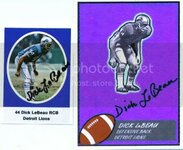 There's some support for the veterans committee to elect LeBeau to the Hall of Fame this year, guess we'll see in a couple of weeks.
Oh, I think it's time to get a new scanner, mine hates blue. The LeBeau custom should be a light blue not purple. I bought it a few years ago because it can scan slides and I finished scanning the family slides a long time ago. Time to retire it to the storage closet. Here's what the LeBeau should look like.