Ron Berger - c/o home
6 days, 3/2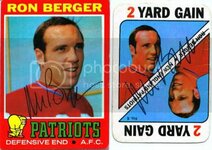 He also added a signed 8x10 black and white photo.
He played a couple of years of semi-pro football before the NFL, I mentioned that in my letter, here's the note he also included:
"Tim - Coming up the hard way and being a success in the NFL made it all the more sweeter. Live life with a passion! RB"