Was VERY pleased with my returns! Here are my TTM returns from yesterday and today. I got all addresses from the TTM database.
Friday Returns:
Herschel Walker (Heisman winner and 3x NFL Pro Bowler) 1/1 in 10 days
Dirk Nowitzki ('07 NBA MVP, 8x NBA All Star, and still going strong) 1/1 in 10 days
Ozzie Newsome (NFL HOFer) 2/2 in 10 days and included "HOF 95" inscription!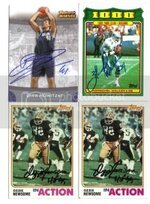 Saturday Returns:
Bobby Thomson (legendary HR in '51 playoffs, 3x MLB All Star) 2/2 in 11 days
Al Rosen ('53 AL MVP and 4x MLB All Star) 1/1 + extra in 9 days... I sent the Sweet Spot classics cards, I got it back signed and he also included a signed "Diamond Signautres" card. Very Nice!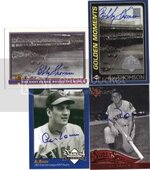 Thanks
Nate