Good day at the mailbox today
.
1/1 Joey Votto (Slight Smudge, but still looks awesome on the card)
1/1 Aaron Harang
PLUS a Chase Utley GU card I got for free, courtesy of a member from another site!
Both on... you guessed correctly, 2008 Allen & Ginter cards. What makes it even better, IMO, is it's Votto's RC, so it looks really neat.

________________
Also, kinda thought this was interesting to compare the sig I got from Votto TTM last year (minus card bubbling- my own stupidity), from this year.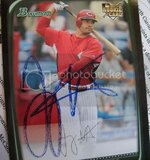 Last year

Today's success
I guess pretty much the same thing. Still cool though to look back and see player sigs from different years.
______________________
Thank you for looking, I am up to 46/350 signed cards. Getting there (sorta
)
Last edited: