After looking for almost a year, I finally came across the Rickey Henderson buyback that Upper Deck released last year. I never saw one for sale on eBay, and this is the first one that I have seen.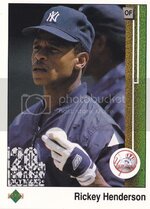 Anyone have a clue on how many of these were produced? I wrote to Upper Deck, but they have not yet responded. I know they were inserted approximately 1 per box in 2009 Upper Deck Series 2 and SPx, but they could have been in more sets as well.
Any other player/team collectors see more than one copy of any particular card? I know these are not #1/1's, but I'm interested in how many there might actually be.
Here's the full post I wrote on the card here:
http://www.rickeyhendersoncollectibles.com/2010/07/2009-upper-deck-1989-20th-anniversary.html
Any help that you guys can provide would be greatly appreciated!