Joined

Mar 28, 2010
Messages

14,323
Reaction score

18
Points

48
Location
Bought myself an early Christmas present, a box of Bowman's Best which hit the LHS today. Pulled 3 base Mets but the rest is up fo trade. Just looking for 2015 Bowman's Best Mets in return for now.
I have not seen a checklist of these yet but if there is any indication by what I pulled, I'd guess the best part would be the parallels. Didn't get anything impressive in the autos. 2 autos per box, 2 boxes of 5 packs (10 packs in all) per wrapped box making it 4 autos per 2 box/box (does that make sense?).
These FT for Mets of same:
2015 BOWMAN'S BEST:
Base- 21abreu, 22tanaka, 33pineda, 34stanton, 37bautista, 39goldsh, 44meyer, 45sale, 51seager(sea), 55castillo, 66frazier, 71erod, 73hamels, 83scherz, 84swihart, 94price, 96arenado
Refractors- 19ajones, 14ncruz, 61miggy, 68keuchel, 89gomez, 95bhamilton,
Atomic- 59 rendon(was)
Blue(x/150)- 27buxton
Top prospects-TP-10fulmer(chw), 14burroes(det), 16schwarber, 22gordon, 23happ(chc), 27arussell(kc), 39bickford(sf), 43blair(az), 45rodgers(col)
Refractors- TP-26kaprielian(nyy), 35dansby(az), 40martin(oak), 47randolph(phl).
Mirror Image- MI-4stras/giolito, 9arod/correa, 13price/rodon, 18tucker/tucker
High Def- HDH-ARrussell, MCmiggy
First Impressons- FI-BRrodgers
AUTOS- B15-ER erod(bos), BZ bzimmer(clv), CTtucker(pit), WB buehler(lad).
nEED THESE mETS:
Base- 18degrom, 23cespedes, 32noah
Green- 18 23 32 57 92
Gold- 18 23 32 57 92
TOP PROSPECTS- TP-44nimmo
1995 Best AUTO- 95BB-JD
Best of 2015 AUTO- B15-NSnoah, SMAmatz
High Def Heritage- HDH-JD, KP, NS AUTO- KP, NS
Some pics to whet your appetite: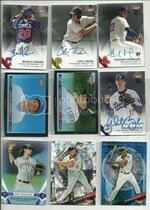 LMK..thanks. MERRY CHRISTMAS