2016 Bowman Baseball​
10 Cards per pack - 24 packs per box
1 Auto card per box
I received these:
Auto

Trea Turner
On card - blue Sharpee -- nice!!!
Green Shimmer Chrome Refractor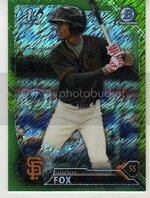 Lucius Fox #ed to 99
Top 100 Chrome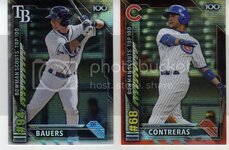 Bickford, Anderson, Bauers
Contreras - orange #ed to 25
Turn Two - Chrome

Baretto and Olsen - Oakland A's
Chrome RC Flashback

Jeff 'Bags' Bagwell
Parallels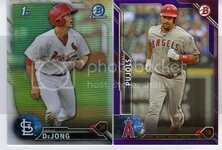 One chrome refractor - DeJong - #ed to 499
Purple paper - Pujols #ed to 250
Grey/Light Black? Paper parallels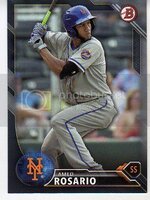 2 - Polanco and Rosario
International Ink / Sophomore Stars
Both paper

Intl Ink - Taveras and Vargas
Soph Stars - Synderggaard, Franco, Swihart
Family Resemblance

Tatis
Base
Veterans -- 100 paper -- no dupes - 66.6% of the base of 150

72 Bowman Prospects - 48% of the base set of 150

48 Bowman Chrome Prospects - 32% of the base set of 150
********************
Always one of my favorite issues of the new baseball year.
(Suggestion for Topps --- why not make the paper for retail and the chrome for hobby stores only?)
Bowman is a must for the set collector, and the prospect collector. Every year many of us go back 2, 3 or more years of cards to see who we might have that is now a shining star in the bigs. These cards are no exception. Of the 150 prospects, only a few will be really really good in the majors.
I like the number of inserts and parallels. One insert set would be really great to chase - the orange top 100 - only 25 of each -- how cool would that be to have that set? Whoever might collate that one would probably have a one of a kind!!
I also like the Turn Two chrome insert -- looks great!
The parallel collectors out there again will have one heck of a mountain to climb - refractors - labeled with the word 'refractor' and numbered!!! YES!, gold, red, blue, purple, and I am sure I left one or more out... plus the shimmer refractors.
Overall grade
A+
- my favorite!!
Go buy several boxes --- I still need a few chromes to complete my set and as always - send the Rays parallels to me!
Duane