24 packs - 10 cards per pack
2 Autos and 2 Relic cards per box
I received these: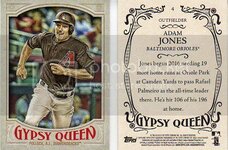 187 unique base cards -- or 62% of the base set.
Gypsy Queen's design remains much the same as it has since inception -- photos with an 'artist touch'. The cards are printed on relatively thin manila stock. Gypsy Queen seems to be a very good issue for the set builder, the player collector, and even the team collector. The folks out there that might want to put together a master set with each of the insert sets... that could be one heck of a mountain to climb. The basic insert sets should be easy enough to track down - but the buybacks - that's another story altogether!
I also received 6 short prints. To the best of my knowledge, I did not receive any photo variations and I know that there are a number of them.
Mini's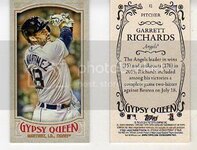 Most - if not all - packs come with a mini card. Also included is a box topper box of 10 additional mini's.
I received 28 total unique minis. The mini cards seem to be numbered the same as the base set including the SP's to 350
Mini Parallels
3 purple mini's #ed to 250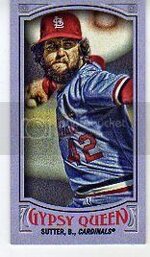 Purple Framed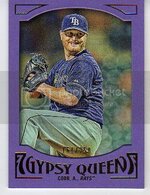 Mr. Cobb of the Rays #ed to 250
Inserts

Walk off Winners -- 4x
Glove Stories - 4x
Power Alley -- 6x
Relic

Tanaka
Autos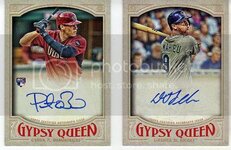 Peter O'Brien
DJ LeMahieu
Both autos are on card, blue Sharpee autos!! Very good!!
Auto'd Relic

Jose Altuve #ed to 5
Very thick card with on card auto and what looks to be a sewn stripe on the relic. Sweet looking card!
****************
Gypsy Queen seems to be an excellent issue again this year. The first time set collector should be easily pulled in to building the set. One should need 2-3 boxes to complete the base set and have a great start on the SP's.
Overall grade
A
Go buy several boxes and send the Rays purple parallels and Rays mini's to me!
Duane