Hi All,
Busted a couple hobby boxes with my son for Christmas... the first time I've bought football hobby boxes.
First box was pretty average but the 2nd box had great hits...
2016 Playoff Rookie Autographs Kickoff # 4 Ezekiel Elliott, Cowboys, #07/49
2016 Playoff Rookie Autographs, # 53, Kenny Clark, Packers #011/199
2016 Playoff Rookie Stallions JERSEY, HH, Hunter Henry, Chargers, #066/149
2016 Playoff Headlines JERSEY, EB, Eric Berry, Chiefs
2016 Playoff Thunder and Lightning 4th Down, BG, Tom Brady, Patriots, #02/10
2016 Playoff Star Gazing Kickoff, RW, Russell Wilson, Seahawks, #120/199
2016 Playoff 1st Down, 213, Laremy Tunsil, Dolphins, #45/99
2016 Playoff 2nd Down, 180 DeSean Jackson, Redskins, #08/49
2016 Playoff Kickoff, 183, Jim Kelly, Bills, #089/199
2016 Playoff Kickoff, 105, Teddy Bridgewater, Vikings, #138/199
2016 Playoff Kickoff, 212, Sheldon Rankins, Saints, #113/199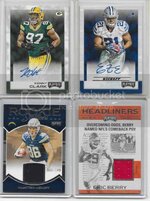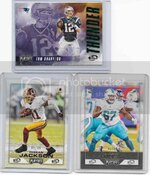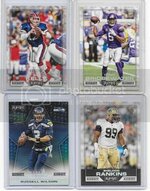 Various Inserts:
Class Reunion:
Dez Bryant/Demaryius Thomas; Marino/Elway; Curtis Martin/Terrell Davis; Stafford/Clay Matthews; Emmitt Smith/Shannon Sharpe
Air Command:
Luck; Rodgers; Palmer; Brees; Cutler; Cousins
Boss Hoggs:
Adrian Peterson; Devonta Freeman; David Johnson; Doug Martin; Ezekiel Elliott; Eddy Lacy; Frank Gore; Jamaal Charles; Jeremy Langford; Lamar Miller; LaGarette Blount
Star Gazing:
Luck; Adrian Peterson; Devonta Freeman; Bortles; Jamaal Charles; Edelman; Mariota; Odell Beckham; Russell Wilson
Thunder & Lightning;
Brady/Gronk; Carr/Cooper; Luck/Hilton; Von Miller/Demarcus Ware; Matt Ryan/Julio Jones; Rodgers/Nelson
If you are looking for base or base RCs, let me know who/what/team you seek.
All for trade... looking for comparable Steelers, Panthers, Larry Fitzgerald in return.
Would also look at baseball... check the links in my signature for my interests.
Michael
Last edited: