Hit up the semi-LCS today and cracked a box of 2016 Diamond Kings and a box of 2016 Topps Archives.
Main hits from my Diamond Kings box were:
Sketches & Swatches Joe Panik Jersey Autograph #55/99
DK Materials Framed Blue Ty Cobb Dual Bat #3/5
The Archives box was super awesome. Pulled a #309 Anna Benson's ex-husband SP,Blues of Hector Olivera and Mike Trout and I'll let the pics below tell the rest of the story: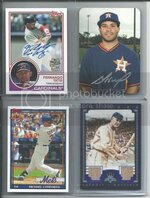 Altuve is #38/50
Rarely do I ever pull a nice card of a player I collect so I was beyond stoked to hit the Conforto Desert Shield variation
Thanks for the look,
Brett
BAZINGA!