Picked up this lot of cut signatures of three HOFers.
Raymond Berry
Art Donovan
Buddy Jeannette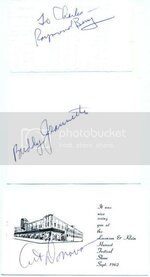 Jeannette is considered one of the top players of the late 30s and 40s, prior to the NBA. He later coached the Baltimore Bullets of the NBA, Georgetown University and the Pittsburgh Pipers in the ABA. Was a player/coach in 1948 for the championship Baltimore Bullets of the BAA (Basketball Association of America.) Elected to the HOF in 1994 and passed away in 1998.
I already have Berry on a card, so at some point I'll make it into a custom cut signature card.
From what I could find, Levenson & Klein was a furniture store here in Baltimore that closed about 30 years ago.