Hey all-
Caught the bug and opened three boxes. It was fun, I feel like it was way more loaded with inserts this year (they're cool though!). Everything FT/FS unless noted (the Gold is VVVVHTG Trade wise, but I'm still willing).
Unpictured Hits: Ortiz Beam Team Gold (NFT); Lindor RC ERROR; Luminescent Greinke; Olivera Photo Variation NFT
Here are pictures of the Hits:
Posey is Members Only(NFT) Gray NFT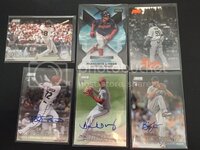 Matz- Traded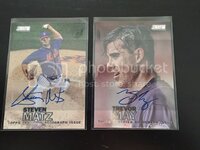 and the best Hit I've gotten this year- Gold Auto #'d 20/25!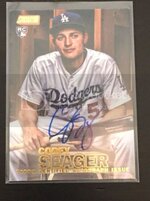 Base, Inserts and better pics of he autos have been added to my site.
I am looking to complete this set, please check my bucket for my needs!
Last edited: