Was able to add some 40 autos to my collection at The National show the past couple of days.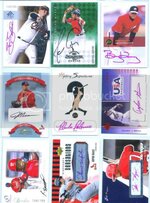 Steve Bechler/Javy Lopez/Bobby Kielty
Josh Pearce/Placido Polanco/Tyler Greene
Enix Snead/Aaron Miles/Peter Kozma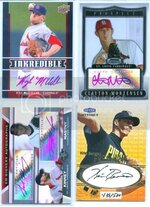 Kyle McClellan/Clayton Mortensen
Josh Kinney-Tom Mastny/Kris Benson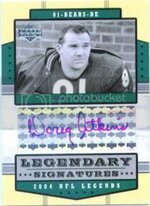 For me a steal at $3, a Bears HOFer.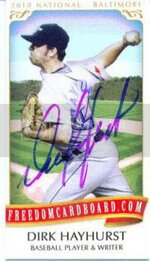 Dirk Hayhurst was signing at the Freedom Card Board table.
From my 2010 A&G box: Chris Volstad
Picked up BAP autographs of the following goalies:
Pat Jablonski (2 different)
Guy Hebert
Jon Casey
Tommy Salo
Mark Fitzpatrick
Damian Rhodes
Marcel Cousineau
Jason Muzzatti
Rick Tabaracci
Corey Hirsch
Mikhail Shtalenkov (2 different)
Frederic Chabot
Rob Tallis
Daren Puppa
Jimmy Waite
Kelly Hrudey
Dominic Roussel
Darcy Wakaluk
Tim Cheveldae
86-87 Topps Doug Gilmour
Nick Etten (1940s Yankees 1B) - Index Card
And this, golf scorecard from a celebrity golf tournament
Andy Van Slyke

Van Slyke doesn't sign via the mail, so plan to make a Cardinals custom cut signature card.