My scanner has been out of commission for about 2 weeks, so I decided to wait and post all of my ttm successes once I got it up and running so I could put pics with them. Got all addresses from the TTM database.
Bobby Doerr (HOFer) 2/2 in 7 days
Roberto Alomar (12x MLB All Star and 10x Gold Glove winner) 1/2 in 13 days
Stan Musial 0/1 in 7 days (did return my card) I got this postcard, but its defenitely not signed.... Oh well, you win some you lose some
Jeremy Roenick (9x NHL All Star and 2x Olympic Silver Medalist) 3/3 + black business card in 8 days. 1 of the autos looks smeared, but can't complain on a 3/3 quick return from a great player.
Ron Cey (6x MLB All Star and World Series MVP) 3/3 in 7 days, all 3 look great!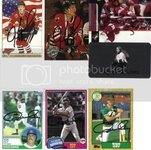 thanks
Nate