'51 Heritage Collection
One complete set received... 104 cards - 2 complete decks of cards - Red and Blue backs... plus 21 minis and one auto'd card.

I am reasonably sure that there is some type of distinction in the base cards because of the different color schemes (at least 6 color variations that I could easily discern).... but I cannot figure it out... The prices of the boxes will run about $70+ (shipping?).
The cards are printed in the style of Heritage and on the same type stock as Heritage. I don't believe that one would want to 'shuffle up and deal' with a set such as this. This is an issue for the Heritage set collector. Individual cards can be had on the 'bay by the folks that have broken the set...
Mini Parallels

Here is where the variation backs come into play... I received:
10 Red
5 Blue
3 Green
2 Black
1 Gold
Now if someone wants to build a nearly impossible set - go for the gold, green or black back minis. That would be one heck of a hill to climb! Admittedly, also one really cool set...
Auto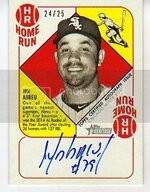 Jose Abreu on card - blue Sharpee - #ed to 25 -- beautiful auto - Mr. Abreu obviously takes a bit to sign the card in a fantastic fashion! Thank you sir!!
There are other autos included in the boxed set - not many of which are numbered. The other autos I have seen are all on card and few have been numbered.
Overall grade
A
-- very good set for the Heritage collectors!
Go buy several sets and if there is one - send the Longoria or Archer auto to me...
Duane