Had some fun taking my nephew and a friend of his to the game tonight. Free tickets and free parking make it even better....It's the independent league but still a good game of baseball. No one at all in attendance(maybe 150)...
Here's the haul we got...
Butch Henry 2 sticker cards(he manages the El Paso team)
Pete Incaviglia 3/3
Geno Petralli 7/7(88 topps for greatdad)..
Afterward El Paso OF J.D. Reininger(former UT player on '02 National Championship team and '02 Big 12 Frosh of year) told my little nephew to go meet him at the clubhouse(Clayton had been shouting his name and was of course in full UT garb)...We go over there and J.D. hands him 2 game-used batting gloves and a baseball...pretty nice of the guy to go out of his way and make a kid's day. Good stuff..
Also saw Rod Scurry's kid pitch, Rod Scurry Jr...Funny thing is Jr. is 6'7'' but he is a submarine right-handed pitcher....strange indeed...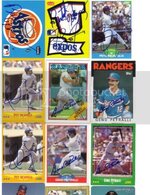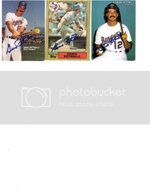 thanks for reading!!!
Chris