Joined

Jul 31, 2005
Messages

6,893
Reaction score

0
Points

36
Location
ok long story ill try to make it quick. seeing this was my first fan fest i tryed to be there when they open the doors. got there 5 till 9 and saw rod carew cut the ribbon to start the all star weekend. so i stayed to try to Graph him. no luck he got swarmed up. so grabbed a list of whos sighing and where and off i go. first one i saw was a little line so i went in (forgot who a angel pitcher toss a no hitter) than i read the paper more and saw wally joyner was signing at the same time.....so i got out of line and ran to him. little longer line. 20 mins got up there and the 2 girls gave me field seats to the thursday game (which i gave away to a guy in another line wait) got up to joyner got this sweet ball! had him inscribe it w/ "first rookie electeed to all star game"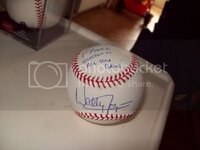 so now its 10 ish and was like i better hit the topps store b4 they run out. so went there to see what i had to get. 3 wrappers and choose one card. so i was like cool ill get some bowman AND a free card.....well bowman was.....wait for it..... 12.00 A FLIPPIN PACK!!! ok i dont have any stores i go to but thats crazy! give me retail. the jumbos were 50.00!! so i got topps series 2.....busted it got to choose my card.... only 300 a day was giving out and yest IT is for trade but dont low ball me.....
next i saw rod carew cruise by on a golf cart so i thought id try to grab him now...was teaching a hitting thing. so after the 30 min wait he came out the back door and i pounced and go tthis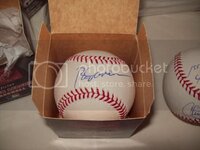 so now 1100 2 graphs and a stras. so time to get ready for the 1200 graph. walk to chuck finley line. about 5 rows deep....ok this was nuts. they let people POSE for pictures! UGH he was UP and DOWN front of the table and what not! no way for a free auto come on! well an hour later i FINALLY GOT UP THERE! asked him to inscribe it w/ "1st pitcher w/ 4 Ks in 1 inning X3" he did! great guy!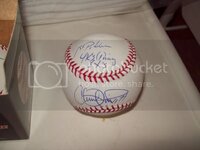 so now i was like str8 bee line to the next wait. an hour early and about 100 or so peeps infront not to bad. rolllie shows up and starts to auto. head down few hand shakes and the line MOVED QUICK! 20 min i think it was. i asked the guy if he was inscribing his HOF and he said he didnt see any. so i got up there and asked for a HOF and he did. great brewer pitcher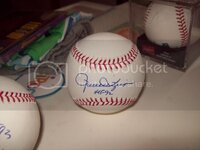 next (the biggy here in angel town) Tim Salmon....went str8 there and was waaaaaaaay back. but in the ropes...mind you its the same as finley spot so i was like O snap its going to be 2 hours! so i was gabbing w/ the people running it and said they need to try to keep the pics to a min cuz theres a line a mile long...she talked to the supervisor and low in behold.... salmon shows up 15 min late...25 MINUTES I WAS GETTING MY AUTO!!! flippin sweet! the guy in front of me was w/ his wife and she was getting one not him. so i asked if he would get me one....he got this w/ ROY 93
so i was like SWEET so i got this ROY 93 and "KING FISH" awsome nickname here in la la land!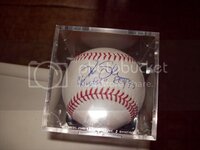 that was it....i couldnt wait in another line so i called it quits @ 4 still 2 hours left UGH well sunday its the wife kid and i so thats the fun stuff....maybe one autograph....
Also got a extra rollie fingers ball but gave it to my father in law for watching the 1 1/2 yr old while i played...he earned it