Joined

Sep 16, 2008
Messages

4,751
Location
Was super excited to see today's return!!!
I am a life-long NASA and Space enthusiast. My bookshelf has a few hundred space-related books, but my autograph collection had no Astronauts...
well I had to change that
My younger brother, who just turned 16 yesterday, recently enrolled in Indiana Aerospace Jr/Sr High School. I have finally fed him enough interesting facts to get him interested and he is now looking at attending college to get a degree in Aerospace Engineering.
I had 2 8x10s printed at Walgreen's and sent them off a few months ago. Got both back signed and personalized to my brother and I. They also added a signed crew photo of STS-116!!! Looking closely at the signatures, I believe they are real and not printed...wow! Also very nice to include a note, which I believe is written by Colleen Shipman (who was the victim of an attempted kidnapping by the former NASA Astronaut Lisa Nowak). All in all, an exciting success and I will definitely be sending some more out to add to my collection.
Only two more scheduled Shuttle flights remain, with a third in planning.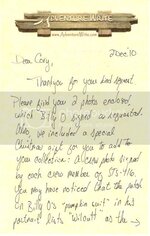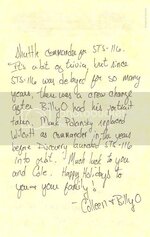 1 of 2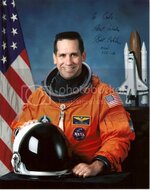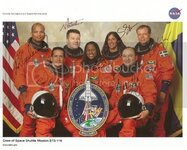 Thanks for viewing, and reach for the stars with your collections!!!