One Master box - 2 mini boxes
32 cards per mini box
2 autos and 1 memorabilia card per box
I received the following:
48 Base cards - no dupes!!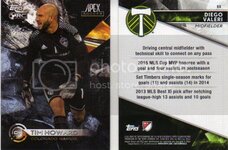 Apex Soccer or futbol as the rest of the world calls the sport is a good middle of the road set - meaning not inexpensive yet not beyond the reach of the everyday collector. The cards are well done - however, a bit dark for my taste. I prefer a lighter background where the player stands out more. The player picture is glossy while the background is a matte.
The reverse is simple with 3-4 facts/highlights of the players MLS career. As with all cards that have a black or very dark front, they are corner sensitive - should anyone want to have one graded.
Global Influence

6 unique Global Influence
Golazo
2x Golazo
Memorabilia
2 color jumbo relic - Dave Ousted - #to 50
Very thick card - well done!!
Autos
Diego Valeri
Sean Franklin #ed to 99
Both are sticker autos - the card is designed for the sticker and they look pretty good - still on the dark side.
&&&&&&&&&&&&&&&&
For the set builder, one should be able to complete a base set with as few as 3 master boxes of Apex Soccer.
Kick17 cards and packs are advertised on the mini box, and I did not receive any of these.
Overall grade
B
-- too dark for me....
Go buy a master box or 3 and see what jumbo patch or relic you pull -- they really do look good!!
Duane