Sent c/o spring training...
...So glad to see these come back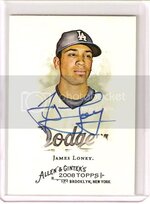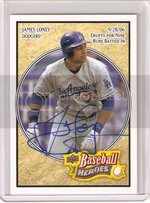 I have the rainbow of parallels for the 08 heroes and almost all of the game used/patch versions...and there is only one auto from the set and since I can't afford or find this one:
2008 Upper Deck Heroes Jersey Autograph Navy Blue #89 James Loney/1
The TTM one is more valuable to me anyway...and will fit in the rainbow nicely.
Also got in 5 trades today and they were all Colts cards! Sweet!!! Nice pickups for my collection all from great Bench members.
Thanks!
...happy TTMing