Awesome Sale Thread - Lost of Autos & GU/Patches - Take a Look! Posey, Ortiz, Rizzo++
Fresh in the mail today and ready to go! Shipping is $2.50 no matter how many you buy!
I feel my prices are pretty reasonable, but feel free to make offers on multiple items! I will trade for decent condition vintage Yankees or Yankee star autographs, but I will be pretty picky.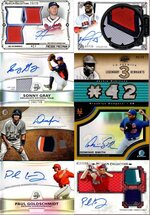 1 - 2015 Museum Collection Triple Swatch Auto 23/25 - Freddie Freeman - $20
2 - 2015 Five Star Jumbo Patch Auto 3/35 - David Ortiz - SOLD
3 - 2010 Bowman Platinum Auto Relic Refractor 244/740 - Sonny Gray - $15
4 - 2008 Upper Deck Premier Remnants Triple Swatch 9/25 - Jackie Robinson - SOLD
5 - 2014 Bowman Inception Patch Auto 10/25 - Devon Travis - $25
6 - 2015 Bowman Chrome Prime Position Gold Refractor Auto 11/50 - Dominic Smith - $15.00
7 - 2010 Bowman Platinum Autograph Refractor - Paul Goldschmidt - SOLD
8 - 2014 Museum Collection Dual Swatch/Patch - Paul Goldschmidt - SOLD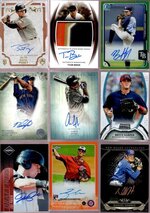 9 - 2015 Topps Supreme Orange Autograph 16/25 - Buster Posey - SOLD
10 - 2014 Leaf Trinity Patch Autograph - Tyler Beede - SOLD
11 - 2015 Bowman Chrome Green Refractor Auto 80/99 - Brett Honeywell - $30
12 - 2015 Bowman Inception Green Auto 8/99 - Michael Conforto - $40
13 - 2014 Bowman Inception Green Auto 30/75 - Aaron Judge - SOLD
14 - 2011 Bowman Sterling Prospect Refractor 51/199 - Bryce Harper - $55
15 - 2011 Limited Draft Hits Signatures 39/299 - Joe Panik - $15
16 - 2015 Topps Chrome Orange Refractor Auto 18/25 - AJ Cole - $15
17 - 2015 Tier One New Guard Rose Gold Ink Auto 2/25 - Daniel Norris - $15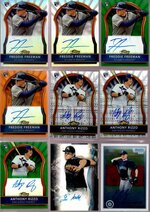 18 - 2011 Finest Refractor Autograph 143/499 - Freddie Freeman - $11
19 - 2011 Finest Refractor Autograph 78/499 - Freddie Freeman - $11
20 - 2011 Finest Green Refractor Autograph 18/199 - Freddie Freeman - $15
21 - 2011 Finest Orange Refractor Autograph 6/99 - Freddie Freeman - $22
22 - 2011 Finest X-Fractor Autograph 222/299 - Anthony Rizzo - SOLD
23 - 2011 Finest X-Fractor Autograph 170/299 - Anthony Rizzo - SOLD
24 - 2011 Finest Green Refractor Autograph 172/199 - Anthony Rizzo - SOLD
25 - 2014 Sterling Refractor Autograph 139/150 - Tyler Kolek - $6
26 - 2010 Bowman Chrome Prospects Autograph - Kyle Seager - SOLD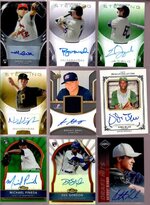 27 - 2013 Bowman Sterling Autograph - Michael Wacha - $10
28 - 2013 Bowman Sterling Refractor Autograph 11/150 - Ryan McMahon - $10
29 - 2013 Bowman Sterling Green Refractor 46/125 - Eric Jagielo - $5
30 - 2013 Bowman Sterling Gold Refractor 15/50 - Nick Kingham - $7
31 - 2009 UD Signature Stars Prospect Autograph Jerseys 23/399 - Sonny Gray - $12
32 - 2013 Museum Collection Archival Autograph 118/399 - Vida Blue - $5
33 - 2011 Finest Green Refractor Autograph 38/199 - Michael Pineda - $15
34 - 2011 Finest Refractor Autograph 380/499 - Dee Gordon - $6
35 - 2011 Limited Draft Picks Signatures 147/199 - Anthony Rendon - $10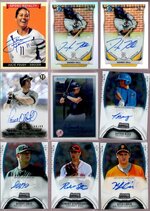 36 - 2008 UD Goudey Sports Royalty Auto - Julie Foudy - SOLD
37 - 2014 Bowman Chrome Draft Refractor Autograph - Derek Hill - $6
38 - 2014 Bowman Chrome Draft Refractor Autograph - Derek Hill - $6
39 - 2014 Topps Tribute to the Pastime Autograph 60/99 - Paul O'Neill - $12
40 - 2010 Bowman Chrome Prospects Autograph - Gary Sanchez - $25
41 - 2011 Bowman Sterling Prospect Autograph - Javier Baez - $12
42 - 2011 Bowman Sterling Prospect Autograph - Sonny Gray - $10
43 - 2011 Bowman Sterling Prospect Autograph - Robert Stephenson - $2
44 - 2011 Bowman Sterling Prospect Autograph - Kyle Crick - SOLD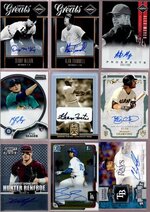 45 - 2011 Limited Greats Signatures 481/499 - Denny McLain - $5
46 - 2011 Limited Greats Signatures 135/499 - Alan Trammell - $7
47 - 2011 Limited Prospects Signatures 209/399 - Alex Meyer - $3
48 - 2011 Bowman Sterling Prospect Signatures - Kyle Seager - SOLD
49 - 2005 Donruss Greats Gold Holofoil Signatures - George Foster - $5
50 - 2015 Topps Supreme Green Autographs 47/50 - Brandon Crawford - SOLD
51 - 2013 Panini Prizm Perennial Draft Picks Autograph - Hunter Renfroe - $2
52 - 2015 Bowman Chrome Prospects Autographs - Darnell Sweeney - $2
53 - 2013 Topps Chasing History Autograph - Chris Archer - $4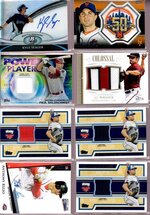 54 - 2011 Bowman Platinum Prospects Autograph - Kyle Seager - SOLD
55 - 2013 Topps Commemorative Patch - David Wright - $3
56 - 2014 Topps Update Power Players Relics 23/99 - Paul Goldschmidt - SOLD
57 - 2014 National Treasures Colossal Nameplates Prime 4/15 - AJ Pollock - SOLD
58 - 2014 Topps Update All-Star Stitches - Clayton Kershaw - $5
59 - 2014 Topps Update All-Star Stitches - Clayton Kershaw - $5
60 - 2009 Tristar Projections Signatures - Anthony Rizzo - SOLD
61 - 2014 Topps Update All-Star Stitches - Clayton Kershaw - $5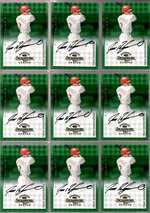 62 - 1998 Donruss Signature Series Millenium Marks /1,000 - Ivan Rodriguez - SOLD
63 - 2015 Bowman Chrome Prime Position Autographs - Austin Meadows - SOLD
64 - 2015 Bowman Chrome Prime Position Autographs - Austin Meadows - SOLD
65 - 2015 Bowman Chrome Prime Position Autographs - Austin Meadows - SOLD
66 - 2015 Bowman Chrome Prime Position Autographs - Austin Meadows - SOLD
67 - 2015 Bowman Chrome Prime Position Autographs - Alex Jackson - $8
68 - 2015 Bowman Chrome Prime Position Autographs - Alex Jackson - $8
69 - 2015 Bowman Chrome Prime Position Autographs - Alex Jackson - $8
70 - 2015 Bowman Chrome Prime Position Autographs - Alex Jackson - $8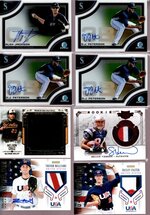 71 - 2015 Bowman Chrome Prime Position Autographs - Alex Jackson - $8
72 - 2015 Bowman Chrome Prime Position Autographs - DJ Peterson - $4
73 - 2015 Bowman Chrome Prime Position Autographs - DJ Peterson - $4
74 - 2015 Bowman Chrome Prime Position Autographs - DJ Peterson - $4
75 - 2015 Museum Collection Momentous Materials 10/10 - Nelson Cruz - $6
76 - 2011 Plates and Patches Patch Auto 233/499 - Shane Vereen - SOLD
77 - 2012 Panini USA National Team Patch Autograph 09/35 - Trevor Williams - $6
78 - 2012 Panini USA National Team Patch 34/35 - Bailey Falter - $3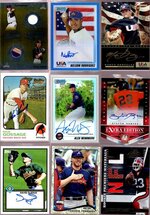 79 - 2002 Playoff Absolute Memorabilia Team Tandems Patch/Jersey 26/50 - Randy Johnson/Curt Schilling - SOLD
80 - 2010 Bowman Chrome USA Blue Refractor Autograph 28/99 - Nelson Rodriguez - $15
81 - 2012 Panini USA National Team Collegiate Marks 7/100 - Marco Gonzales - $6
82 - 2002 Team Topps Legends Archival Autograph - Goose Gossage - SOLD
83 - 2010 Bowman Chrome Prospects Refractor Autograph 195/500 - Alex Wimmers - $1
84 - 2012 Elite Extra Edition Die Cut Autograph 29/100 - Stefen Romero - $2
85 - 2011 Topps Lineage Autographs - David DeJesus - $1
86 - 2014 Topps Update Camo Parallel 34/99 - Freddie Freeman - $2
87 - 2007 Playoff Absolute Memorabilia 502/849 - Marshawn Lynch - $3 (Edges are a little rough)
Last edited: