got to see a great game tonight...baylor won 5-4 in 10 and i got a few IPs before...
First is a 4x6 of the 4 baylor aces personalized for my little nephew Clayton
They are left to right
Craig Fritsch,Logan Verrett, Shawn Tolleson & Willie Kempf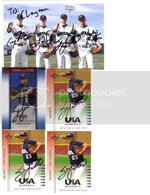 And Tolleson signed 4 cards i had too.....(one for arron for all his custom work!!
thanks for reading!!