We sold our house in May and had to wait until last week to move in to our new location. About two weeks ago, I flew with the kids up to Spokane to collect the last of our things in a U-Haul. We packed it all up and hit the road. About fifteen minutes in, we realized our legs were sticking to the seats in the U-Haul and it was going to be very uncomfortable soon. So, we stopped off at a Walmart near the interstate, thinking we'd grab some beach towels to solve the problem. After we grabbed some towels and cold drinks, we did what any family of collectors would do...we stopped at the card aisle!
We picked out a couple of things we were interested and I spotted a basketball repack product - three packs inside for $29.99...and I figured I would give it a shot. I was pleasantly surprised by the three packs we received but we needed to hit the road, so I stored them safely away. A couple of hours later, I stopped for gas and sent the kids into the convenience store for some more cold drinks and a snack. While they were in the store and I was filling the tank, I decided to open.
The three packs were: 2018-19 Prizm, 2018-19 Status, and 2016-17 Threads.
The Prizm was first and I did fairly well - hitting a Mikal Bridges Silver Prizm RC, Mitchell Robinson RC, and Lou Williams Green Prizm.
The second pack was the Status and it started with a Shai rookie and something turned over...could it be a Luka rookie or parallel? Even better...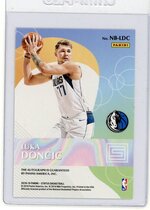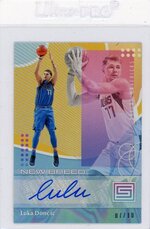 I was floored that this beauty was sitting on a Walmart shelf in a repack box. This is the gold parallel New Breed Rookie Autograph of Luka - the numbering is 07/10 - seven was his number in the Euro leagues.
Nothing really to speak of in the last pack, but I didn't really care after pulling the Luka!