Next Box of 2021 Leaf Flash will go up for free once the Stadium Club break is done.
Matt McClain Fearless Phenoms FF-MM2 Navy Blue 45/75
Cincinnati Reds
in the
1st round
(17th)
Jairo Pomares Green BA-JP1 Giants IFA
Riley Greene Green BA-RG1
Detroit Tigers
in the
1st round
(5th)
Debut:
June 18, 2022
Harry Ford BA-HF1 Navy Blue 39/75
Seattle Mariners
in the
1st round
(12th)
and
Owen Caissie BA-OC1 BGS9.5 Black 2/5!
San Diego Padres
in the
2nd round
Traded to Cubs in Yu Darvish trade.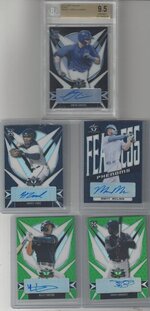 Simple Contest...each box contains 4 autographs plus either one 9.5 or 10 BGS graded auto or one pre-production 1/1 auto.
So, just guess the name of one of the 5 players that I pull and win a pick of one of the following:
not one the Valiant cards.
One pick per person! Multiple winners available depending on correct choices. Card will be mailed in a PWE
Hope you guys enjoy this little contest...if it goes well and no one wins; You'll get a chance in a future Leaf break.
Don't know any of the players name?
2021 Leaf Valiant Baseball checklist, set info, buy boxes, release date, reviews. Find 4 MLB prospect autographs & 1 graded or slabbed card.

www.cardboardconnection.com
Thanks Bob
Last edited: