Hi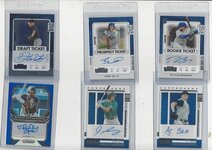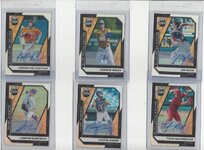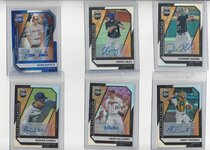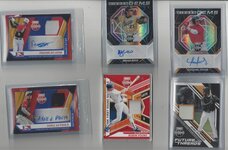 Bonus blaster is the 2021 Prizm Baseball. 6 Packs of 4 cards plus a bonus pack of 8 colored Prizm cards 4 Purple and 4 Green Wave.
PLEASE REMEMBER, THIS IS DUAL LISTED ON thebenchtrading.com and team picks will go by the earliest, unless the newest is higher.

What's better than actual 22 Autos 5 Relics? 22 Autos and 4 Relics!

Breaking 2 Hobby Box of 2021 Elite Extra Baseball, and one Contenders Hobby boxes.
20 Autos and 4 Relics all together!
Offering top prospects across several fronts,
2021 Panini Elite Extra Edition Baseball
looks at the budding talent in the hobby.
Each EEE Hobby box has eight autographs and two relics
. The product features recent MLB Draft picks, other key prospects and exclusive Dominican Prospect League (DPL) players.
Year two for the rebooted MLBPA line, 2021 Panini Contenders Baseball covers former greats, current rookies and notable prospects.
Each Hobby box should yield
six autographs along with 18 Optic editions and 24 inserts.

2 Hobby Box of 2021 Elite Extra Edition 5 Packs of 5 Cards each. Expecting 8 Autos and 2 Memorabilia cards Box *25 cards $200
2021 Panini Contenders Baseball Hobby Box Break Average 6 Autographs 18 Optic (Base/Parallels) 24 Inserts (Base/Parallels) $110

​

Chronicle cards from my breaks, about 90 cards that include base cards, blue parallels, Chromium cards and Chromium Prizm. Just $30.

Watch the break, might help you pick a team!

One bonus blaster $30

Shipping was $10

BIDDING ENDS AND TEAMS ARE SET WHEN WE REACH THE BOX BREAK PRICE OF Total $380 Bids so far $394 (Thanks Everyone) to go $0

LOTS OF WANDER FRANCO AUTOS ARE POSSIBLE IN THE CHRONICLE BOX and jerseys in Elite!!

Dominican Cards will be settled by www.random.org and randomize the 30 spots five times

Will try and keep current with picks, as my job and "She Who Must Be Obeyed" allow!

Any Questions? LMK

Thanks Bob

Teams and Prices:

Arizona Diamondbacks $15 Molitor04x

Baltimore Orioles $15 Molitr04x

Boston Red Sox $26 Molitor04x

New York Yankees $20 Molitor04x

$76

PAID

New York Mets $6 darkman

Philadelphia Phillies $6 darkman

Oakland Athletics $6 darkman

Seattle Mariners $11 darkman

Kansas City Royals $7 darkman

$36

PAID

Colorado Rockies $11 LarryG

Milwaukee Brewers $8 LarryG

Texas Rangers $5 LarryG

$24

PAID

Los Angeles Dodgers $10 Grappler

San Francisco Giants $6 Grappler

Houston Astros $6 grappler

Toronto Blue Jays $6 Grappler

$28

PAID

San Diego Padres $20 Steelers8873

Cincinnati Reds $15 Steelers8873

Miami Marlins $15 Steelers8873

Chicago White Sox. $15 Steelers8873

$65

PAID

Pittsburgh Pirates $25 bdink

Washington Nationals $10 bdink

Atlanta Braces $11 Bdink

Los Angeles Angels $25 bdink

Tampa Bay Rays $25 bdink

Washington Nationals $10 bdink

$98

St. Louis Cardinals $10 Lemole

Cleveland Indians $10 Lemole

$20

PAID

Detroit Tigers $14 mechjo

PAID

Chicago Cubs $25 @prospector9 (SCC)

PAID

Minnesota Twins $10 Leonofnj In Route

Total Needed to Reach Break Price: $00


1/1 Bounty: Choice of the one following rookie cards: 2018 Topps Gallery #116 Shohei Ohtani RC

Los Angeles Angels

2018 Topps Gallery #126 Juan Soto RC

Washington Nationals

2018 Topps Gallery #140 Ronald Acuna Jr. RC

Atlanta Braves

or the following Rookie Card Lot

2018 Topps Gallery #89 Gleyber Torres RC

New York Yankees

2018 Topps Gallery #127 Rafael Devers RC

Boston Red Sox

2018 Topps Gallery #141 Walker Buehler RC

Los Angeles Dodgers

Everyone
Last edited: