Joined

Oct 8, 2007
Messages

5,447
Location
Hi Guys
Okay...at first didn't look like the greatest of boxes. Especially after watching "If Sports" pull of the week. But, when the counting was done...Disappointing not to pull any Wander Franco. However...
2022 Topps '87 Topps Autographs #87BACM Casey Mize S2
$25.00
2022 Topps Silver Slugger Award Manufactured Patches #SSAKG Ken Griffey Jr.
$15
2022 Topps Major League Materials #MLMRA Ronald Acuna Jr. S2
$15
2022 Topps Sweet Shades #SS7 Mike Trout
$6
2022 Topps '87 Topps Gold #T8739 Corbin Burnes
$8
2022 Topps Orange Foilboard #656 Franmil Reyes
$10
2022 Topps Base Set Photo Variations #345 Seth Beer/black shirt
$10 but see what it is doing on eBay.
and
2022 Topps Base Set Photo Variations #550B Trea Turner SSP
$150!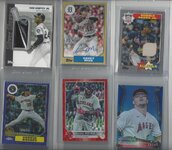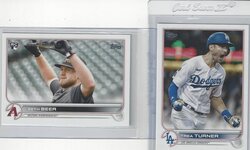 Just got this in, today.
TEAM AUCTION STYLE
group box break for
ONE
JUMBO
BOX of 2022 TOPPS SERIES 2 BASEBALL?

Box Configuration:
-10 packs per box
-46 cards per pack
-1 Autograph card
AND
2 Relics cards per box
Continuing the flagship MLB line, 2022 Topps Series 2 Baseball supplies the second installment of cards for the year.
As usual, Hobby boxes have one autograph or relic and the HTA Jumbo boxes contain one autograph and two relics.
The set builds on the
2022 Topps Series 1 Baseball
offering.
2022 Topps Series 2 Baseball checklist, set info, boxes for sale, reviews, variations, release date. This is part 2 of the main MLB brand.

www.cardboardconnection.com
2022 Topps Series 2 Baseball Base / Parallels​
Adding the next batch of base cards, 2022 Topps Series 2 Baseball fills in cards #331 to #660 via the 330-card base set. Find rookies, veterans and team cards along with the Future Stars subset.
Parallels include
Red Foilboard
(#/199) and
Independence Day
(#/76), as well as several other choices.
2022 Topps Series 2 Baseball​
There are
30 teams
and the auction price will start at $5 for each team.
Members will have a chance to bid on their teams and the highest bidder will get that team and all cards from that team from the break.
MINIMUM BID INCREASE IS $1. BIDDING ENDS AND TEAMS ARE SET IF/WHEN WE REACH THE BOX BREAK PRICE OF $300, Shipping included.

Target = $300 Bids = $290 To Go $10
After teams are set I will add this to the Trade Manager along with my PayPal address.
Break will be on YouTube, when all spots are filled and paid for.

Any Questions, Please ask.
Thanks Bob
| | | |
| --- | --- | --- |
| Teams and Prices: | | |
| Arizona Diamondbacks | LarryG | $8.00​ |
| Colorado Rockies | LarryG | $8.00​ |
| Los Angeles Dodgers | Sasquatch | $15.00​ |
| San Diego Padres | grapler135s | $13.00​ |
| San Francisco Giants | LarryG | $6.00​ |
| | | |
| Chicago Cubs | AndyDrummond | $5.00​ |
| Cincinnati Reds | gestes | $6.00​ |
| Milwaukee Brewers | AndyDrummond | $5.00​ |
| Pittsburgh Pirates | Bdink25 | $15.00​ |
| St. Louis Cardinals | teelers8873 | $10.00​ |
| | | |
| Atlanta Braves | Steelers8873 | $15.00​ |
| Miami Marlins | LarryG | $7.00​ |
| New York Mets | Who765 | $6.00​ |
| Philadelphia Phillies | AndyDrummond | $5.00​ |
| Washington Nationals | LarryG | $7.00​ |
| | | |
| Houston Astros | who765 | $7.00​ |
| Los Angeles Angels | kpit1978 | $18.00​ |
| Oakland Athletics | gestes72 | $6.00​ |
| Seattle Mariners | kpit1978 | $23.00​ |
| Texas Rangers | AndyDrummond | $5.00​ |
| | | |
| Chicago White Sox | LarryG | $8.00​ |
| Cleveland Guardians | AndyDrummond | $5.00​ |
| Detroit Tigers | gestes72 | $12.00​ |
| Kansas City Royals | LarryG | $14.00​ |
| Minnesota Twins | LarryG | $7.00​ |
| | | |
| Baltimore Orioles | gestes72 | $7.00​ |
| Boston Red Sox | Who765 | $12.00​ |
| New York Yankees | gestes72 | $21.00​ |
| Tampa Bay Rays | kpit1978 | $17.00​ |
| Toronto Blue Jays | LarryG | $7.00​ |
| | | $300.00​ |
| To Go $300 | | $0.00​ |
Last edited: