Joined

Oct 8, 2002
Messages

7,851
Location
One master box - 2 mini boxes - 5 cards per pack - 6 packs per mini box
4 autos per master box
I received these:
Autos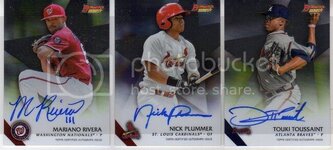 Mariano Rivera
Nick Plummer
Touki Toussaint

Refractor Auto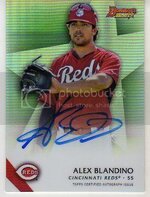 Alex Blandino
Refractors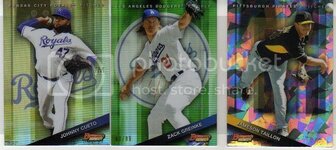 Cracked Ice -- Jameson Taillon
Green Refractor - Greinke and Encarnacion - both #ed to 99
Reg Refractors -- 10 -- 6 vets // 4 Top Prospects
Inserts

High Definition - Pujols // Swihart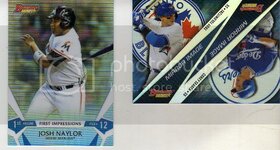 Mirror Image // 1st Impressions
1st - Josh Naylor
Mirror - 4x
Base and Top Prospects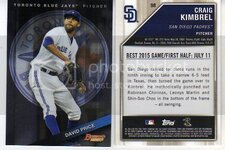 20 unique of 100 .... 20% of base set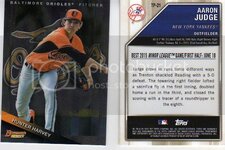 8 - Top Prospects
Bowman's Best is a premium issue printed on stiff stock with high gloss photos. This should be an excellent issue for the set builder, the rookie collector and the player collector. The set builder will need 5-7 master boxes to receive enough for the base sets and still have quite a number of autos and other inserts to either sell or trade.
The refractor set builder might find this to be a fun set to chase. Still don't know why Topps does not indicate in some way which cards are refractors ???? One does receive a good number of refractors in the master boxes.
I really like the High Definition cards - they are very thick and come one card to a pack. They look great!
The autos -- each one I received is on card and in blue Sharpee -- very well done and as it should be in a premium issue!!
Cracked Ice refractor - very nice card!! Should be an excellent parallel to chase for your player sets, rookie cards, and team sets!
Overall grade
A
Go buy a few master boxes and send the very few Rays cards to me!!
Duane