The Hits: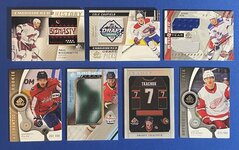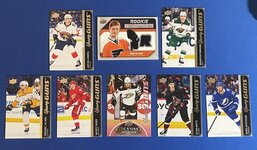 Live link to the group break:
Live link to the team randomization video:
Another cool hockey break recommendation! Anybody interested in trying a
RANDOM
TEAMS STYLE
group break for
ONE RETAIL BOX of 2021-22 UPPER DECK SERIES 2 and ONE HOBBY BOX of 2021-22 UPPER DECK SP GAME USED HOCKEY?


Box Configurations:


2021-22 Upper Deck Series 2 Retail Box:
Configuration: 24 packs per box. 8 cards per pack.
PRODUCT HIGHLIGHTS
- Chase Young Guns Rookie Cards!
- RETAIL EXCLUSIVE Rookie Threads Retro - Add more awesome rookie cards to your collection via this NEW memorabilia set!
- Series 2 also features the continuation of select Series 1 insert sets, including:
- UD Canvas: Collect new star veterans and Young Guns, as well as High Series Retired and High Series Program of Excellence cards.
- Honor Roll: The next 50 cards of this classic UD insert set - which is NEW to Series 2 - feature veterans and rookies. Keep an eye out for Rainbow (#'d to 250) and Gold Rainbow (#'d to 25) parallels!
- Dazzlers: Since its debut in 2020-21, this brightly-colored collection of popped-out, full-bodied star vets and rookies has been a hit! Collect both the Blue, and Pink versions of the next 50 cards.
- UD Portraits: The next 40 cards in this long-running favorite feature only rookies! Look for Black & White parallels #'d to 99 (regular) or 25 (SP's).
- The O-***-Chee Update and O-***-Chee Retro Update sets are back! Both feature veterans and top rookies. Look for Blue Border parallels of the regular update set, which sports a vintage O-***-Chee design.
2021-22 Upper Deck SP Game Used Hobby Box:
Configuration: 1 pack per box. 6 cards per pack.
PRODUCT HIGHLIGHTS
- SP Game Used Hockey is back with an abundance of event and game-used memorabilia!
- Look for cards featuring banner (including auto & auto jersey versions), net cord and/or puck material from the 2020 Stanley Cup Playoffs and the 2021 Lake Tahoe Games, as well as game-used jersey swatches, patches and tags.
- This year's edition sports a 200-card Base Set consisting of star veterans, legends and rookies.
The set breaks down as follows (subject to change):
- Base Set (1-100) | Authentic Legends (101-120) | Authentic Rookies (121-200)
- Each card is serially-#'d to the player's jersey number and the jersey-#'d card (e.g. 97/97) features an autograph!
- Collect an array of incredible parallels as well, highlighted by a number of autograph, memorabilia and autograph & memorabilia parallels. Please see the "Product Breakdown" below for the complete lineup.
Box Break:
- 3 Memorabilia and/or Purity Insert Cards
- 2 Base Set, Base Set Parallel and/or Retro Rookie Cards (All Serially-#'d)
- 1 Autograph or Premium Memorabilia Card
Product Info:
2021-22 Upper Deck Series 2 Hockey checklist, release date, info, pack odds, buy boxes, reviews. Find the 2nd round of Young Guns rookies.
www.cardboardconnection.com
Here is how this break will work. There are
15 spots
and the price is
$20 per spot
. Each spot gets you
TWO RANDOM TEAMS
and all of the cards of the players from those teams. Once the break is full I will randomize the list of members and teams to see who gets what teams.
You will also have a chance to trade teams before we do this break.
After you sign up I will add this to the Trade Manager along with my PayPal address.
Please let me know if anybody has any questions.
1. dragonslayer913 Seattle Kraken, Tampa Bay Lightning
2. Creature of Slime Columbus Blue Jackets, Colorado Avalanche
3. northicehero99
PAID Nashville Predators, Minnesota Wild
4.
[email protected]
PAID Arizona Coyotes, Toronto Maple Leafs
5. PAVI39
PAID Boston Bruins, Vegas Golden Knights
6. PAVI39
PAID Los Angeles Kings, Vancouver Canucks
7.
[email protected]
PAID San Jose Sharks, Pittsburgh Penguins
8. redwing40
PAID Detroit Red Wings, Ottawa Senators
9. kpit1978 Montreal Canadiens, New Jersey Devils
10. redwing40
PAID Dallas Stars, Calgary Flames
11. grapler135s
PAID New York Rangers, Buffalo Sabres
12. northicehero99
PAID Washington Capitals, Edmonton Oilers
13. redwing40
PAID Winnipeg Jets, Anaheim Ducks
14. kpit1978 Philadelphia Flyers, Florida Panthers
15. grapler135s
PAID Carolina Hurricanes, Chicago Blackhawks

Extra Teams Available For Trade (Cards will be randomized to everybody in the break):

New York Islanders
St. Louis Blues
Last edited: