Joined

Dec 26, 2006
Messages

8,074
Location
The Hits: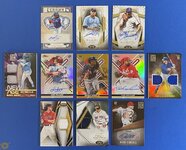 Live link to the group break video:
Sports Card Club Group Box and Case Breaks
youtube.com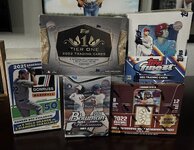 Mid-Monthly Baseball Group Break Club - March 2023
Hi everybody! Time to try another mid-monthly group break. Sticking with the kpit1978 style that seemed to be a hit last month! Only change is that I'm upping the price by $5 per spot so we can increase our budget to get a few nicer box options. This break will still be a
15 spot snake draft style break with each spot getting TWO TEAMS.
We will randomize the 15 spots to determine the draft order. Once the draft order is determined we will pick our first teams one at a time starting with whoever is in the #1 spot they will get first choice from all 30 teams. We will then continue to pick teams in order #2 through #15. Whoever is in the #15 spot will then be first up to pick their second team and we will continue in reverse order so spot #14 will choose next all the way back to spot #1 until all 30 teams are selected. Please let me know if you would like to join us for this mid-monthly group break by
March
20th.
PayPal address:
[email protected]
Price: $40 per spot, each spot gets you 2 teams!
Payment Due:
March 24th
Break Method:
YouTube
Card Distribution
Cards will be distributed by one of the following methods, in this order:
1) Team printed (text or logo) on the card.
2) Team pictured on the uniform.
3) Team the player currently plays for.
4) Team the player played for longest.
Multi-team cards will go to the member who has the most teams on the card. If that can't determine it, it will go to the member with the team on the left, then top, of the card. For example, if the players are pictures left to right, the team featured on the furthest left of the card gets it. If the players are pictures top to bottom, the furthest top team gets it. If the players are situated on the corners, or some other way, the team with the left, top player will get it.
Cards from old teams that simply moved to a new town will be given to the owner of the team that they moved to. (ie. Montreal Expos = Washington Nationals)
All cards that cannot be determined from one of the above methods will be randomed off using random.org.
Shipping
All "hits" will be placed in toploaders, magnetics, or screwdowns. All low numbered (/99 or less) inserts will also be placed in a toploader. Everything else goes in a team bag, sandwiched between top loaders or cardboard. All of that is sent in a bubble mailer, with delivery confirmation (where available).
Spots
1. rburke02
PAID Cincinnati Reds, New York Mets
2. LarryG
PAID Boston Red Sox, Texas Rangers
3. Steelers8873 St. Louis Cardinals, Minnesota Twins
4. Criollos
PAID New York Yankees, San Francisco Giants
5. erdoro
PAID Atlanta Braves, Cleveland Guardians
6. OldNewRips
PAID Kansas City Royals, Chicago Cubs
7. franklinguy52
PAID Seattle Mariners, Oakland Athletics
8. grapler135s
PAID Los Angeles Angels, Colorado Rockies
9. kpit1978 Detroit Tigers, Chicago White Sox
10. bdink25
PAID Pittsburgh Pirates, Miami Marlins
11. PAVI39 Tampa Bay Rays, Milwaukee Brewers
12. grapler135s
PAID Los Angeles Dodgers, San Diego Padres
13. dragonslayer913 Houston Astros, Arizona Diamondbacks
14. kpit1978 Philadelphia Phillies, Toronto Blue Jays
15. AndyDrummond Baltimore Orioles, Washington Nationals
Bold
means confirmed.
Green
means paid.
Draft Order Randomization Video:


Sports Card Club Group Box and Case Breaks

youtube.com
Here is the Team Draft Order:
1. franklinguy52
2. PAVI39
3. Criollos
4. OldNewRips
5. dragonslayer913
6. grapler135s
7. LarryG
8. bdink25
9. Steelers8873
10. rburke02
11. erdoro
12. kpit1978
13. AndyDrummond
14. kpit1978
15. grapler135s
Box Options:

We will be breaking mostly 2023 and 2022 products with a few 2021 options as well.

Option with the most votes will be the winner and will be what we open for this month. Please feel free to wait to vote until after we do the team draft and you know what teams you have!


Option 1 (8 Hits): 8 votes
2022 Topps Finest Hobby (2 Autos)
2022 Topps Tier One Hobby (2 Autos)
2022 Panini Capstone Hobby (2 Autos AND 2 Relics)
Option 2 (8 Hits):
2022 Bowman's Best Hobby (4 Autos)
2022 Topps Heritage Hobby (1 Auto OR 1 Relic)
2022 Panini Donruss Hobby (3 Autos OR Relics)
Option 3 (8 Hits): 4 votes
2023 Topps Series 1 Jumbo (1 Auto AND 2 Relics)
2022 Bowman Inception Hobby (2 Autos)
2021 Panini Prizm Hobby (3 Autos)
Last edited: