Joined

Oct 8, 2007
Messages

5,412
Reaction score

143
Points

63
Location
Cancelled! Sorry to those that bid!
You are bidding on 2 Hobby Boxes of 2022 Optic Baseball and 2021 Optic Mega box with a guarantee of 5 Autos!
Plus free mystery bonus blaster!
No breaker gives you more bang for your buck and more free cards!

TARGET IS $320 BIDS $118 so far. To Go $202
2022 Donruss Optic Baseball brings another year of Optichrome technology to Donruss MLBPA designs.
Each Hobby box averages two autographs, 10 Prizms parallels and 20 inserts. Inside every 12-box Hobby case are two Autograph Hot Boxes, featuring five autographs, and two Prizm Hot Boxes, with 20 serial-numbered parallels. Total 160 cards
2021 Mega Optic has 1 auto and 8 red wave parallels plus more. Total 48 Cards
Plus Free Mystery Blaster and more.


Pick Your Team style all bids started at $2, unless other wise marked.
Shipping $4,
no matter how many teams you win or the fact that postage goes up on January 23, 2023.
Any Questions? Please ask.
Thanks Bob
Be sure to check out my Pick the Player's auto 6
| | | |
| --- | --- | --- |
| 2022 Optic | | |
| Arizona Diamondbacks | gwynn_fan | 2.00​ |
| Colorado Rockies | gwynn_fan | 2.00​ |
| Los Angeles Dodgers | grapler135s | 3.00​ |
| San Diego Padres | gwynn_fan | 8.00​ |
| San Francisco Giants | gwynn_fan | 2.00​ |
| | | |
| Chicago Cubs | gwynn_fan | 2.00​ |
| Cincinnati Reds | gwynn_fan | 2.00​ |
| Milwaukee Brewers | aspoe0293 | 3.00​ |
| Pittsburgh Pirates | dad3309@ | 5.00​ |
| St. Louis Cardinals | gwynn_fan | 2.00​ |
| | | |
| Atlanta Braves | aspoe0293 | 3.00​ |
| Miami Marlins | Steelers8873 | 10.00​ |
| New York Mets | gwynn_fan | 2.00​ |
| Philadelphia Phillies | Lemole | 5.00​ |
| Washington Nationals | gwynn_fan | 2.00​ |
| | | |
| Houston Astros | Therion | 3.00​ |
| Los Angeles Angels | gwynn_fan | 5.00​ |
| Oakland Athletics | gwynn_fan | 2.00​ |
| Seattle Mariners | Steelers8873 | 10.00​ |
| Texas Rangers | gwynn_fan | 2.00​ |
| | | |
| Chicago White Sox | gwynn_fan | 2.00​ |
| Cleveland Indians | dad3309@ | 5.00​ |
| Detroit Tigers | gwynn_fan | 2.00​ |
| Kansas City Royals | gwynn_fan | 4.00​ |
| Minnesota Twins | gwynn_fan | 2.00​ |
| | | |
| Baltimore Orioles | Lemole | 5.00​ |
| Boston Red Sox | Lemole | 5.00​ |
| New York Yankees | dad3309@ | 5.00​ |
| Tampa Bay Rays | Steelers8873 | 10.00​ |
| Toronto Blue Jays | aspoe0293 | 3.00​ |
| Bids | | 118.00​ |
| Target $320 | TO GO | 202.00​ |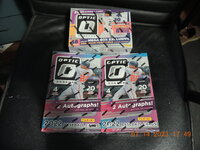 Last edited: